The field of Americana is incredibly wide, spanning not only multiple centuries, but also the entire Western Hemisphere. For the rare book collector who wishes to specialize in Americana, this means that the first step is choosing an area of specialization (discussed in Part One). Then you can start building your collection around that focus. A meaningful, valuable collection of Americana often has multiple layers: primary sources, secondary sources, and bibliographical materials.
Primary Sources
One of the most appealing aspects of Americana is that it offers us a lens through which to view our history. First-hand accounts are particularly gripping because they're more personal and relevant. These are often called primary sources, and they form the backbone of any Americana collection. Primary sources are those that are as close to the person, event, or idea being studied as possible. Journals, records, speeches, photographs, and artwork all constitute primary sources.
If you're an Americana collector, it's ideal to incorporate as many primary sources in your collection as possible. They are often more scarce, so they can add value to your collection. They also add both depth and context, bringing a more authentic perspective to the collection. As you build your personal library, seek out these primary sources whenever you can.
Secondary Sources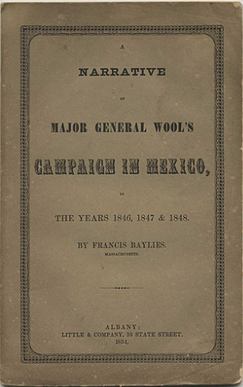 The next layer of an Americana collection is secondary sources. These are generally more removed from a historical event or person, though they may draw on primary sources. An excellent example of a secondary source is Francis Baylie's A Narrative of Major General Wool's Campaign in Mexico in the Years 1846, 1847, and 1848. Published in 1851, Baylie's account draws from private and official sources, along with an interview with General Wool himself. Written just a few years after the events it covers, this narrative provides an invaluable perspective on how people interpreted current events in their own time.
Ideally your Americana collection will incorporate secondary sources from multiple points in history,including modern ones. These items will illuminate changing attitudes and understanding about your specialization over time. Moreoever, the source lists of secondary sources can often direct you to other resources or even potential new items for your collection.
Bibliographic Materials
As you build an Americana collection, you also build a "meta collection" of books on books--that is, bibliographic references that will help you identify potential new items for you Americana collection. Bibliographies usually include edition identification points and other useful information to guide you in your search for new items for your collection.
While these materials are often viewed as separate from your collection, they are a valuable tool for contextualizing it, and it's useful to see them as an integral part of your Americana collection. Along with these, you'll also want to retain all records of purchases and any documentation of provenance. These are particularly important for items that are scarce or difficult to authenticate.