Are you considering expanding your current book collection to include paper ephemera? If so, you might want to learn more about collecting and preserving broadsides. Sometimes you will also see broadsides described as "broadsheets." Now that you know the terminology, you might be asking: what in the world is a broadside? According to the Oxford English Dictionary, it is "a sheet of paper printed on one side only, forming one large page." But this definition doesn't fully explain the significance of these items. Broadsides are among the most sought-after items for collectors: from those interested in sixteenth-century political ephemera to those putting together collections of twentieth-century poetry. No matter what era or genre your collection spans, you might be interested in adding some of these materials to your library.
Learning More About Broadside Collections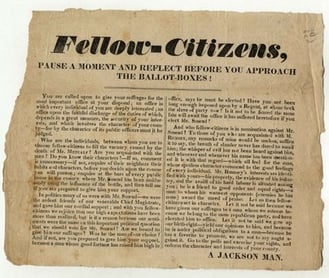 As a research guide* from Duke University Libraries explains, broadsides have been around since the sixteenth century, and they were printed early on to advertise information to the public. Historically, broadsides have ranged drastically in size, anywhere from "approximately 13" x 16" . . . to over 5 feet in length." In the 1500s and 1600s, they were primarily printed in black ink and contained no images. However, as time went on, makers of broadsides began incorporating colors and illustrations. The earliest broadsides appeared in Europe, while American broadsides began appearing by the mid-seventeenth century. As the Duke research guide makes clear, collectors and archivists describe broadsides as ephemera because they were, in large part, designed to be ephemeral: "they were meant to serve their informational purpose and then be discarded."
Of course, small press broadsides printed in the mid- to late-twentieth century were not designed to be discarded. To be sure, the opposite is true of poetry broadsheets that have become popular with modern and contemporary collectors of poetry. Small press letterpress broadsheets often were—and continue to be—printed in small runs, making them rare and often quite valuable.
Taking Steps to Properly Preserve Your Collection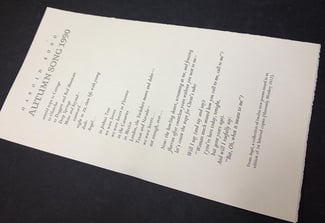 Depending on the age of your broadside collection and the type of paper upon which your items were printed, you may need to take different steps to ensure that they're properly preserved. We can offer some general tips for taking care of paper collections and paper ephemera. According to a Library of Congress guide**, the key to preserving any paper collection is "good care, storage, and handling." What do those terms mean?
First, you want to ensure that you're storing your items properly. As with rare books, you should keep all paper collections in a cool, dry place with relative humidity of only about 35 percent. In other words, keep your paper collection out of the basement and the attic, as well as other areas of the house that can be subject to extreme temperature variations. Also keep your collection out of direct light and away from any vents or radiators. Your broadsides should never be folded, either. Keep them flat, or you may roll them if they are large and/or oversized. And keeping broadsides and other paper ephemera in supportive, acid-free protective folders or boxes can help to preserve these often-fragile items.
Now that you know about proper storage, it's also important to learn more about proper handling of rare and fragile paper ephemera. Some of these tips are common sense, but we'll make sure to give you all the information you need. It's essential that you have clean hands when you're handling a broadside, and you should always keep food, drinks, and pen ink away from these objects. If you must make a mark, use only a pencil. And do not use any kind of paper clips, rubber bands, tape, or other items that could cause damage to the paper.
Developing a broadside collection can be very rewarding, especially if you're exploring new ways to expand your current holdings. Now that you know about proper storage and handling for paper ephemera, you should start adding to your collection.
*View Duke's Research Guide here. **View more from the Library of Congress here.