Today, we'd like to tackle the topic of collecting art books. Before we begin, it's necessary to define what exactly "collecting art books" means. In fact, it can mean different things to different people, and this blog post certainly won't be an all-inclusive list. For the sake of this post, we'll discuss four variations on the collecting art book's theme. First, we'll focus on collecting books of artists' art work. Second, we'll document some great books about art, from its history to key players in the art scene, both past and present. Then, we'll shift our attention to collecting books by famous illustrators; such books are magnificent in their own right. Finally, we'll discuss books as art and the art of fine press books. Read on for tips to get started with or continue your own art books collection.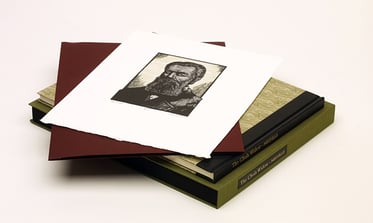 When beginning any book collection, we highly recommend narrowing your focus. An art book collection will not be successful if you are not specific in what you aim to collect. Narrow the items you're searching for by artist, era, theme, or type of book. Doing so will not only prevent you from amassing a library of unrelated materials, but it will also allow you to zero in on collectibles that are truly valuable to you and your collection.
Collecting Art Books: Books of Artists' Work
There are far too many amazing artists—both past and present—for us to even scratch the surface of top collectible books of artists' work. However, here are a few ideas of recently published or soon-to-be-published art books to get you started.
Interested in Georgia O'Keefe? A collection of her art was published as Watercolors by Radius Books this year. O'Keefe (1887-1986) is considered "the mother of American modernism" and is well known for her floral paintings and landscapes. This collection includes full scale color reproductions of almost 50 watercolors she completed early in her career, while living in Texas between 1916-1918.
For those interested in New York and its art scene, the Museum of Modern Art (MoMA) puts forth the Greater New York exhibit every five years. Along with the exhibit, MoMA is publishing a series of readers. These make interesting collectibles for anyone interested in up-and-coming artists or artists from a particular location and background. Contributors to the readers include Fia Backström, Mark Beasley, Gregg Bordowitz, Susan Cianciolo, Douglas Crimp, Catherine Damman, David Grubbs, Angie Keefer, Aidan Koch, Glenn Ligon, Gordon Matta-Clark, Claudia Rankine, Collier Schorr, and Sukhdev Sandhu. These publications conclude with a round-table conversation with exhibition curators Peter Eleey, Douglas Crimp, Thomas J. Lax, and Mia Locks.
Collecting Art Books: Books about Art
One of the foremost books about art and a necessary book for your art book collection is The Story of Art by Ernst Gombrich. First published in 1950 by Phaidon Press, The Story of Art is a comprehensive look at art and its history from ancient times to modern day. Professor Gombrich eloquently displays his mastery of his subject matter as well as his love for it. Praise for the book comes from scholars, artists, aspiring artists, students, and everyone in between.
Pierre Rosenberg, the Président-Directeur of Musée du Louvre in Paris said: "Almost as well known as the Mona Lisa, Sir Ernst Gombrich's The Story of Art unites learning and pleasure." And, in a review published in The Birmingham Post, the book is further praised: "The Story of Art has just about everything you need to follow the course of art from cave painting to David Hockney … I am surprised it's not yet been placed in hotels on the bedside table along with Gideon's Bible since Gombrich is as authoritative as the voice of God…"
What's more, Phaidon Press's editions of the book are masterpieces in and of themselves. All of these factors make this book a requirement for the art book collector.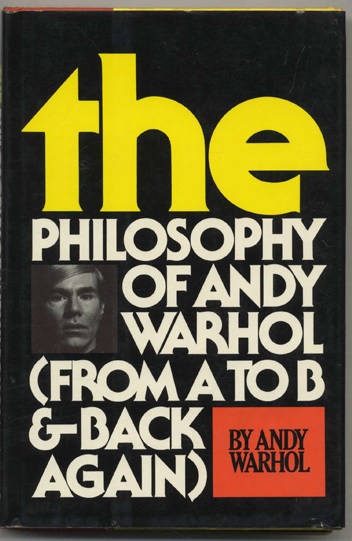 Another impressive book about art is The Philosophy of Andy Warhol: From A to B and Back Again, which details Warhol's thoughts and the life behind his pop art. First editions of the book were published in 1975 by Harcourt Brace Jovanovich in New York. They will cost a collector several hundred dollars, more if they are signed by Warhol.
Indeed, an interesting segment of art books are books written by artists about their artwork. Other quality examples include Richard Hamilton's Collected Words and The Eye's Mind: Bridget Riley – Collected Writings, 1965-2009. Each of these books gives us a lens into the inner workings of their artist authors, adding dimension to both our understanding of their art and to the quality of our art book collection.
Collecting Art Books: Famous Illustrators
We've written before about legendary illustrators. For many, their favorite artists are, in fact, illustrators of some of their favorite books. Charles van Sandwyk, author and illustrator of such titles as The Fairies Christmas, The Golden Key, and Will O' the Wisps, is a fine example.
Van Sandwyk's artwork hangs in the National Library of Canada, but his illustrations can find a home in a collector's library through his books. First edition copies of his titles are pricey, getting in to the thousand dollar range. This is especially the case for some of the limited edition print runs for titles such as Will O' the Wisps (2012) which was signed and limited to 35 copies, and Betwixt and Between: The Art and Influences of Charles van Sandwyk (2011) which was signed and limited to 100 numbered copies. Other van Sandwyk titles have their own significance. For example, The Fairies Christmas was published in 2001 by The Fairy Press in Vancouver and was distributed by Heavenly Monkey as its Christmas 2001 Book.
Collecting Art Books: Books as Art
Speaking of Heavenly Monkey, we'd be remiss if we left a discussion about art books without bringing up books as art, specifically the art of fine press book making. Made in limited quantities, fine press books elevate publishing to an art. They are highly sought after by art lovers and book collectors alike. You may want to pick out a particular fine press publisher to begin your collecting endeavors. We'd definitely direct your attention to Heavenly Monkey, Nawakum Press, and Shanty Bay Press, all of which put forth books that are remarkable for their design and content. And stay tuned for a feature article on Two Ponds Press and its work in the coming months!
Some highlights:
Heavenly Monkey's Harold Budd collection includes remarkable works of art, written, designed, and compiled by musician and poet Harold Budd with the guiding hand of Heavenly Monkey's talented head, Rollin Milroy. We'd point your attention to Angel, 4, and Carnival, among other great pieces.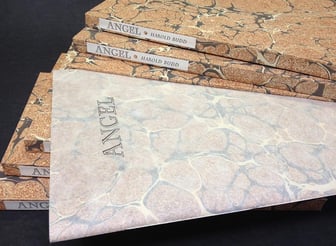 Nawakum Press has done a beautiful rendering of environmentalist ground breaker Rachel Carson's Undersea as well as Herman Melville's Norfolk Isle & The Chola Widow. Nawakum has taken these two works, both of which were first published in magazines, and elevated them to exceptional works of art, using the words of these beloved authors as its guide.
Shanty Bay Press, for its part, has delivered some masterful books with illustrations by Walter Bachinski. We'd point your attention to Homeric Hymn to Aphrodite, a poem which was first composed before the invention of writing. However, eventually the poem was written down and translated by Susan C. Shelmerdine. Bachinski, along with Janis Butler, designed Shanty Bay's fine press version which includes three multi-colored pochoirs and three two-colored woodcuts.
Sources: Artbooks.com, Abe Books Top 10, Phaidon