Since the eighth century in Japan, woodcuts have been used for printing textiles and paper, and later for creating illustrations in books. According to an article* from the Metropolitan Museum of Art's website, "woodcuts are produced by inking a raised surface against which a piece of paper is pressed, either manually or by running it through a press, to create an image on the paper."
Beginning in the fifteenth century, woodcuts served as illustrations in printed books, and many scholars attribute the first successful black-and-white woodcuts as book illustrations to Albrecht Dürer. By the mid-sixteenth century, woodcuts were replaced largely by engravings as a method for illustrating books. Still, numerous artists and writers have revived this method. If you're thinking about collecting books with woodcuts, where should you start?
Woodcuts By Antonio Frasconi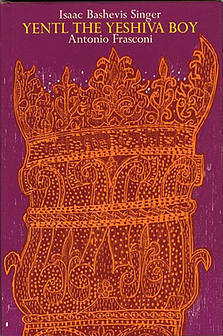 One of the best places to start your woodcut collection is with books containing the artistic creations of Antonio Frasconi. This "Woodcut Master," according to an obituary** in The New York Times, was born in Buenos Aires, Argentina in 1919. Shortly after his birth, he and his Italian-immigrant parents relocated to Uruguay, the country that he would call home for the remainder of his life (even after he was forced into exile by the military dictatorship that lasted from 1973-1985). He moved to the United States and made his home in Norwalk, Connecticut. In 1953, an article in Time Magazine described him as "America's foremost practitioner of the ancient art of the woodcut."
His works have been featured in artists' books and children's books, as well as on magazine covers and holiday cards. In 1965, Frasconi created the images for Bestiary, a book of Pablo Neruda's poetry. Published by Harcourt, Brace & World, this book was limited to 300 copies with each signed by the artist. By the early 1980s, Frasconi had created woodcuts for more than 100 books. For instance, his pieces adorned Isaac Bashevis Singer's Yentl the Yeshiva Boy (1983). Just a couple of years later, Frasconi art appeared in the first American edition of Italo Calvino's Before You Say Hello [Prima che tu dica Pronto] (1985). Plain Wrapper Press out of Cottondale, Alabama published the book, and it's a pricey (but entirely worthwhile!) item to add to your collection. Fine copies typically sell for thousands of dollars.
Children's Books with Woodcut Images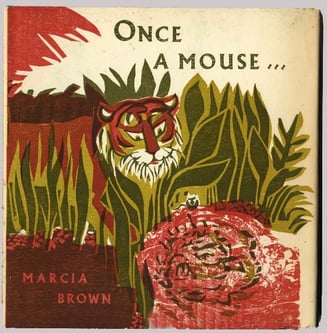 As we mentioned, Frasconi did some woodcuts for popular children's books. But there are other contemporary woodcut artists out there, too. One of our favorite examples is Marcia Brown's Once A Mouse . . . a fable cut in wood (1961). This Caldecott Medal winner retells a fable, as the title suggests, from Hitopadesa. Even the dust jacket showcases the beautiful colored woodcut images within the book.
Another fantastic children's book featuring woodcuts is Beatrix Potter's Wag-By-Wall (1944), with woodcut "decorations," as the dust jacket says, by J.J. Lankes. Lankes was a woodcut artist originally from upstate New York. Examples of his work appear at colleges and museums throughout New England and along the Eastern Seaboard. In addition to illustrating the Beatrix Potter book, Lankes is also known for illustrating books by Robert Frost, Sherwood Anderson, and Thomas Gray. Any of these works would make fine additions to your collection.
While the art of making woodcuts began centuries ago, it remains an art form that is alive and well in numerous twentieth-century books. The texts we've mentioned are only a few examples, and we encourage you to consider them a starting point for building your collection.