For many families, Christmas wouldn't come around without a Christmas Eve reading of the ultimate holiday poem, Clement Clarke Moore's The Night Before Christmas. Originally known as A Visit from St. Nicholas, Twas the Night Before Christmas has been a part of the Christmas tradition for over a century and a half. Who was the author behind this famous Christmas poem? What are some valuable editions of The Night Before Christmas to add to your collection? We thought we'd give you a taste of Christmas in July and explore this popular holiday title.
Spotlight: Clement Clarke Moore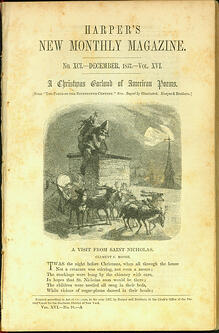 An early publication of A Visit from St. Nicholas in Harper's (1857)
Moore was born on July 15th, 1779 to Benjamin Moore and Charity Clarke and grew up in Elmhurst, Queens. He graduated from Columbia College (now Columbia University) in 1798 where he earned both his BA and MA. While we know him as a poet, he worked as a professor of Oriental and Greek literature at Columbia College. Following his 1820 donation of land to the college for the construction of the General Theological Seminary, he was made professor of Biblical Learning, a post which he faithfully held until 1850.
During his long career, Moore authored a number of books on a variety of subjects. He produced a two-volume work compiling the Hebrew and English Lexicon, A Compendious Lexicon of Hebrew Language (1809), a translation from the French of A Complete Treatise on Merinos and Other Sheep (1811), and a historical biography of George Castriot, Surnamed Scanderber, King of Albania (1850). He was also a poet in his private life, frequently having his works published in the Portfolio and other similar periodicals.
In 1837, a book of poetry of New York poets was published, The New York Book of Poetry. Several of Moore's poems were included. A Visit from St Nicholas appeared in the book; however, the authorship remained anonymous at that time.
Collecting 'Twas the Night Before Christmas
It was not until 1844, when Moore published his own collection of poetry, that he acknowledged that he was the author of the famous poem. By that time, New Yorkers had already fallen in love with The Night Before Christmas, and the work was so influential that it changed the concept of Santa Claus around the world.
While Moore wrote only one poem for children, he assured himself a place in homes around the world for generations to come. Moore wrote the poem for his own children and is said to have recited it to them on Christmas Eve 1822. Today, the story remains a part of the holiday tradition, and the book remains a favorite in all of children's literature. In fact, so many editions of the poem have been published that collectors sometimes build single-title collections around it. Whether you're looking to do just that, or you're in the market for one particular copy of The Night Before Christmas, perhaps for posterity's sake, below is a list of several valuable editions.
Robert Sabuda's charming pop-up edition of

The Night Before Christmas

was published as a limited edition of only 500 copies. Copies signed by Sabuda are of increased value.

Mary Engelbreit, renowned greeting card illustrator whose style is uniquely her own, created beautiful illustrations for this 2002 Harper Collins edition of Moore's classic poem. This signed copy "positively glows with the sense of wonder, spirited wit, and nostalgic warmth that is her signature around the world".

Hilary Knight is perhaps best known as the illustrator who brought Kay Thompson's

Eloise

to life. Knight also illustrated a series of beloved Christmas stories, which appear in the

Christmas Nutshell Library. The Night Before Christmas is one such title to be found in this delightful series.

This cover is from the Marshall Cavendish publication of the Christmas classic. Copies of this publication signed by illustrator Gennady Spirin are of added value.

Illustrated by Hilda Miloche and Wilma Kane, the 1947 edition of Night Before Christmas is another collectible edition of this timeless tale.