Leo and Diane Dillon are world-class illustrators, Caldecott Award winners, and a formidable team. The couple met at the Parsons School of Design in New York where both were students. Leo came upon a still life of an Eames chair displayed among student work at a school exhibition. He was struck by it, and set out to find who had done the work. That person—whom he assumed was a "he"—was, in fact, Diane Sorber. The two entered in to a sort of rivalry, trying to place higher than each other at competitive art shows. In the end, they married and joined creative forces.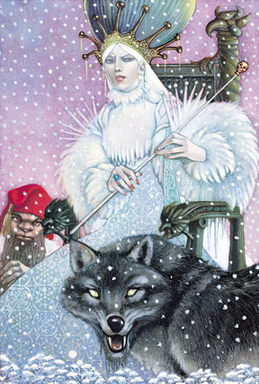 In an interview with Publisher's Weekly in 2018—six years after Leo's death—Diane described their working together:
"Having Leo to bounce something off of, an extra pair of eyes to see something, that worked very well. A lot of people asked, "How can you work with someone else? Don't you think, 'This is your work, this is his work?' " But early on we realized we needed to join forces. We said, "We are one artist. We do something that neither one of us can do individually.""
The obituary for Leo Dillon in the New York Times furthered described the couple's process:
"Their modus operandi, honed over time, involved an initial discussion — a negotiation, to hear them tell it — of their visions of the text. When these were more or less reconciled, one of them made preliminary sketches, which were passed to the other for coloring, then passed back for refinement."
The couples' style of art varies from work to work. They noted in an interview with Locus that they were sometimes criticized for not having a more specific style for art directors to remember them by. Instead, they dabbled and did what they saw fit on each project. They were influenced by everything from folk-art to illuminations to paintings.
What follows is a selection of books illustrated by Leo and Diane Dillon. Anyone who is a collector of children's books, legendary illustrators, or Caldecott-awarded books would do well to add these particular titles to his or her collection.
Margaret Wise Brown is famous for the children's bedtime classic, Goodnight Moon. In Where Have You Been? she tackles the questions that so often bubble from our kids' mouths over the course of the day. Joining forces with the Dillons on this work, Brown's text is thus accompanied by bight, bold, clear paintings. This particular edition of Where Have You Been? includes the illustrators' signatures on the title page.

Mansa Musa tells the story of the title character's childhood. Mansa Musa was an acclaimed king in Mali. Through historic detail and some authorial embellishments, the tale told here takes readers on his journey of self-discovery as Mansa Musa realizes he is destined to rule his people. One review describes the Dillons' art as "Evocative, finely wrought gouache paintings." This particular book is a first edition copy of Mausa Musa, published by Gulliver Books/Harcourt, Inc. in 2001. Leo and Diane Dillon signed the title page.

The Dillons earned the Caldecott Award in 1977 for their work on Ashanti to Zulu: African Traditions. This award was significant because not only did it draw attention to this important work, but it was also the couple's second consecutive Caldecott win. They were the first artists to be bestowed the honor two years in a row. The work itself is inspired by different heritages but universal experiences. Leo Dillon described their work on this title as follows:

"We wanted to portray in "Ashanti to Zulu" that there are many different cultures and it's just not Africa as one big place, but that like the rest of the world, there are many, many cultures."

In Tales from Shakespeare, ten of Shakespeare's most popular plays are reimagined and set alongside brilliant artwork from some of the top illustrators of our time. These individuals include Barbara McClintock, Barry Moser, John J. Muth, and—of course—Leo and Diane Dillon. The Dillon's worked on the illustrations for King Lear. This book was published in 2004, and this particular editions is signed by the illustrators.

The Tale of the Mandarin Ducks is a story of love and kindness. When two ducks are separated, a couple is able to rescue and reunite them. However, in doing so, the couple puts themselves in great danger. Not forgetting their kindness, the ducks work to outsmart those who would punish the couple. First published in 1990, this first edition copy is signed by both Paterson and the Dillons.
Sources: New York Times, Publisher's Weekly Q&A With Diane Dillon, Locus Magazine, Publisher's Weekly