Jorge Luis Borges was born in Buenos Aires, Argentina in 1899. Borges spent many of his early years abroad in Geneva, Switzerland and later in Spain, where he became acquainted with Western literary trends and the shift into the period that we now describe as "modernism." He returned to Buenos Aires in the early 1920s and published his first book, Fervor de Buenos Aires, in 1923.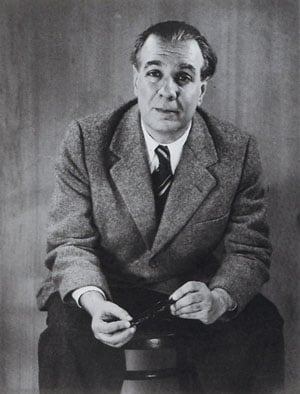 While in Argentina, he became part of a circle of literary critics involved in the publication of the literary magazine Sur. Indeed, Borges even served as an editor of the journal, along with other notable South American writers such as Victoria Ocampo (who was the primary architect of Sur), as well as Adolfo Bioy Casares and Guillermo de Torre. Several decades later, he'd become known as one of the most important 20th-century writers.
International Acclaim and Borges in America
Borges traveled to the United States for the first time in the 1960s, and the University of Virginia was one of his stops. He had recently received the Prix International in 1961, a prize that won him acclaim far outside the Southern Cone. By this time, Borges had published a number of his most famous works, many of which weren't translated into English until years later. Example include Ficciones and Labyrinths: Selected Stories and Other Writings.
While at the University of Virginia, Borges met a then-graduate student who would later become a prominent librarian at the University and voracious collector of Borges's works.
The Jorge Luis Borges Collection
The University of Virginia's Special Collections Department first acquired the beginnings of its Jorge Luis Borges Collection in 1977. At that time, C. Jared Loewenstein, who had by that point become a friend of the author, helped the University to acquire about 400 titles. In the last thirty-five years, the collection has grown to over 2000 titles, and it is one of the most prominent collections in the Special Collections Department.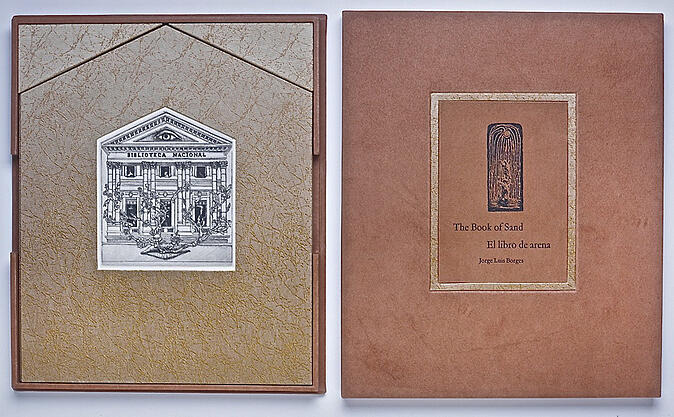 What can you find in this massive collection? You name it—there's not a lot that isn't represented here. It includes every known first edition of Borges's works, including several early ones from the 1920s that are extremely scarce. Indeed, only a handful of copies are known to exist today. In addition, the collection contains a number of items in translation. For instance, it contains a French translation of Rosa y Azul, known in French as Rose et Bleu, published in Paris in 1978 by Editions de la Difference. A German translation of The Book of Sand, known in Spanish as El Libro de Arena, was translated by Dieter E. Zimmer in 1977 as Das Sandbuch and published by Carl Hanser Verlag in Munich.
The collection also highlights Borges's own work as a translator, with the author's translations of famous works. For instance, a 1938 translation of Franz Kafka's The Metamorphosis, read in Spanish as La Metamorfosis, was translated by Borges himself and published in Buenos Aires, Argentina by Editorial Losada. Other notable translations produced by Borges include works by notable American writers and poets such as William Faulkner and Walt Whitman.
Visit Special Collections Departments
Many book collectors don't realize the ease with which you can visit a Special Collections department and check out the books, scribblings, and other ephemera of some of our favorite writers. In addition to the many Borges books contained at the University of Virginia, the collection also includes correspondence with handwritten letters by the author, as well as the author's ink sketches on paper.
If you're interested in learning more about Jorge Luis Borges, his role as an international novelist and poet, and his interest in politics, you should consider a trip to the Special Collections Department at the University of Virginia. You won't be disappointed with the vast materials related to this famous Argentine writer and thinker.