Collecting Nobel Prize in Literature winners makes sense: there's a list to follow; a new author is chosen each year from all around the globe, allowing for an eclectic reach (again, congratulations to the 2015 winner from Belarus, Svetlana Alexievich!); and your collection will be filled with the best of the best. We've recently been spotlighting Nobel laureates from Germany, and today, we'd like to continue by providing some collecting tips for Hermann Hesse and Nelly Sachs.
Hermann Hesse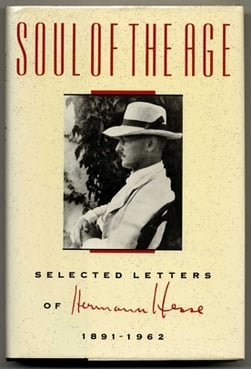 Hermann Hesse was born in Germany but actually resigned his German citizenship in favor of that of Switzerland in the early part of the 20th century. He won the Nobel Prize in Literature in 1946 "for his inspired writings which, while growing in boldness and penetration, exemplify the classical humanitarian ideals and high qualities of style".

Truly, there is a humanness to Hesse's prose, though his initial publications fell flat. In fact, Ralph Freedman in his Hermann Hesse: Pilgrim of Crisis: A Biography details how only a fraction of the 600 printed copies of Hesse's first published book of poetry, Romantic Songs, sold. The book was initially published as a favor from a friend, and Hesse only continued to periodically publish thanks to his employment in book shops. Eventually, he caught the eye of heavy-weight publisher Samuel Fischer, and the rest is history.

Fischer pre-published Hesse's first novel, Peter Camenzind, in 1903 and then fully in 1904. First edition 1903 copies will now sell for between $600-$1,000. Subsequent novels of note include Steppenwolf which S. Fischer also published in 1927. First edition copies are bound in light blue cloth and Hermann Hesse's initials are on the front board in gilt. Copies of the first edition in fine or near fine condition with an equally fine or near fine dust jacket will cost a collector between $5,000-$7,000. Paperbound issues of the first edition also exist (alongside the cloth bound issues), so be sure to clearly understand what type of book you are researching for your collection. Likewise, the first English edition of Steppenwolf was published in 1929 in London by Martin Secker. You'll find this edition bound in the original black publisher's cloth. With a dust jacket in fine condition, first English editions can cost in the $3,000 range. Signed copies sometimes become available, and if a collector is looking for such a collectible, he or she will pay a premium—near $7,500.

Hesse collectors should also be on the look-out for the novel, Siddhartha. Published by S. Fischer in 1922, the first edition in its original German will cost collectors in the $5,000 range.

Look for collections of Herman Hesse's poetry, as well. His collection titled Poems was first published in America by Farrar, Straus & Giroux in New York in 1970/1971. Vintage copies or proofs—published in 1970—of the collection will sell for a few hundred dollars. The collection was translated from the German edition of Die Gedichte which was originally published in 1953. Another interesting collection to watch for is Hours in the Garden and Other Poems in which Hesse interweaves scenes of nature and childhood memories. This collection was first published in English by Farrar, Straus & Giroux in 1979. Collectors can find first edition proofs with softcovers for around $200. The softcover book has light pink/mauve paper wraps.

Other interesting add-ons to a Hermann Hesse collection include artwork from the writer himself. He spent much of his later life working on watercolor drawings. This artwork is incredibly valuable and can get expensive. Likewise, artwork done by others but inspired by Hesse's writing such as the original painting by Peter Kettle titled "The Glass Bead Game," which drew from Hesse's novel by the same name, would make incredibly interesting and thought-provoking collection additions.

Nelly Sachs
Nelly Sachs was awarded the Nobel Prize in Literature in 1966 "for her outstanding lyrical and dramatic writing, which interprets Israel's destiny with touching strength." She shared the award with Shmuel Yosef Agnon. Sachs' experience as a Jew in Germany during the rise and reign of Hitler and the Nazi regime informed much of her work and through her writing, she became a spokesperson for the Jewish people. A strong theme running through her writing is that of the Jewish people's place in both history and religion.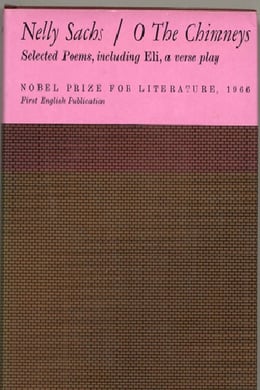 Sachs' most well known work is a good place to start one's collection. The play, Eli: Ein Mysterienspiel vom Leiden Israels which translates to Eli: A Mystery Play About the Suffering of Israel was first published in German in 1951 by Malmö. In a limited print run, 200 copies were made, numbered, and signed by Sachs. This first edition includes illustration by Esaias Thoren. Acquiring one of these copies, depending on its condition, will cost a collector between $500-$1,000.

Eli can also be found in certain collections of Sachs' poetry including O The Chimneys which was published in English in 1967 by Farrar, Straus and Giroux in New York, preceding the first U.K. edition which wasn't published until 1968. This collection includes the English translation of a number of Sachs' poems—taken from works such as Fahrt ins Staublose (1961), Zeichen im Sand (1962), and Späte Gedichte (1965), all of which would also make nice collectibles—paired alongside the original German text. A copy of O The Chimneys in fine condition will cost about $100 to acquire.

In 2011, Suhrkamp Verlag published an annotated edition of Nelly Sachs works in four volumes. Titled Werke. Kommentierte Ausgabe in vier Bänden and printed in German, copies of this edition will cost a collector between $200-$250. It includes several unpublished plays written in the 1960s which make this compendium an exciting collectible.