During his long writing career, Saul Bellow wrote 17 books that were reviewed in The New York Times over a period of six decades. Many of those reviews were written by prominent writers in their own right, such as Cynthia Ozick, Irving Howe, and Alfred Kazin. Even earlier, Bellow himself was writing articles for the newspaper on other authors' works and questions about his own texts. And that's not all. He also wrote a play, and he was interviewed hundreds of times over the years in which he wrote. He also began editing a literary magazine, News from the Republic of Letters, when he was 81 years old. During his lifetime, he was awarded the Nobel Prize in Literature in 1976, the Pulitzer Prize for Fiction the same year, and the National Book Award on three separate occasions. All of this to say that Bellow not only was extremely well-reviewed and prolific over the course of his career, but that it's not really a surprise that his books have become so collectible. Bellow was born in Quebec in 1915, spent most of his adult life in Chicago, and died in 2005 in Brookline, Massachusetts. We want to give you some advice for building a collection of Bellow's work.
Dangling Man (1944) and The Victim (1947)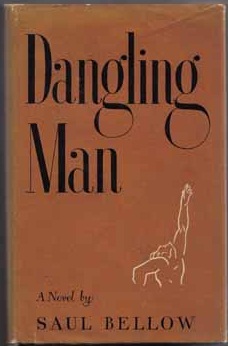 Bellow's first two novels, Dangling Man (1944) and The Victim (1947) have become extremely collectible. While these certainly weren't the books that put him on the literary map, so to speak, they did earn much critical acclaim. These novels also began Bellow's long spatial fixation with his adopted city of Chicago. Indeed, in The New York Times book review of Dangling Man, the novel is described as an "imaginative journal, set against fresh and vivid scenes in Chicago."
Collectors can seek out first editions, both published by The Vanguard Press. Bellow was often willing to sign and inscribe his books for eager readers, and as such it's still possible to find one of his early books with the author's signature.
The Adventures of Augie March (1953)
We'd venture to say that The Adventures of Augie March (1953) is the first book that really earned Bellow popular readership. The novel was published by The Viking Press, and the first few lines of the text have been quoted often and by many:
"I am an American, Chicago born—Chicago, that somber city—and go at things as I have taught myself, free-style, and will make the record in my own way: first to knock, first admitted; sometimes an innocent knock, sometimes a not so innocent. But a man's character is his fate, says Heraclitus, and in the end there isn't any way to disguise the nature of the knocks by acoustical work on the door or gloving the knuckles."
Of course, Bellow wasn't an "American, Chicago born" like his protagonist, but he managed to convince many readers otherwise. He won the National Book Award for the novel, a modern example of the Bildungsroman, in 1954. There are a number of signed and inscribed first editions of The Adventures of Augie March available to add to your collection.
Herzog (1964)
Some critics say that Herzog (1964) is "the book that made Saul Bellow famous." Indeed, an article by Louis Menand in The New Yorker clarified that Bellow was almost 50 years old when the novel was published, and although he had received critical acclaim for previous works, Herzog really put him on the map. It turned him, the article suggests, "into a public figure, a writer of books known even to people who don't read books—an 'author.'" The novel sold 142,000 copies and remained on the bestseller list for 42 weeks, according to Menand.
Can you find a first edition of Herzog for your collection? Certainly! Like The Adventures of Augie March, the first edition was published by The Viking Press, and collectors can certainly get their hands on signed copies.
To Jerusalem and Back: A Personal Account (1976)
In 1975, Bellow traveled to Israel and spent several months there. This book is a collection of his personal impressions—a creative nonfiction work of sorts. In Irving Howe's review of the text, he wrote: "Through quick sketches and vignettes, Bellow evokes places, ideas, people, reaching a sharp if patched-together picture of contemporary Israel." The first edition was published in the U.S. by The Viking Press in 1975. The first British edition was published in London a year later by Secker & Warburg.
These are only a handful of examples of collectible Saul Bellow books. As we mentioned, he wrote more than a dozen novels, short-story collections, and even nonfiction work. If you want more titles, you might seek out Mr. Sammler's Planet (1970), A Theft (1989), or Ravelstein (2000). But those, too, are just some examples of other novels written by Bellow. If you're interested in starting a collection of the author's work, we suggest exploring some of our recommendations and building out from there.