I bought my edition of the Rubaiyat from a secondhand bookstore. I can't tell exactly how old it is; it doesn't include a date. It was printed by Concord Books, Inc., a publisher whose fate I've yet been able to discern. But the volume itself is attractive: a faithful representation of the same Persian poem that captivated Victorian readers some 150 years ago. That is, it's exquisitely translated, and comes with joyous, beautiful illustrations to boot.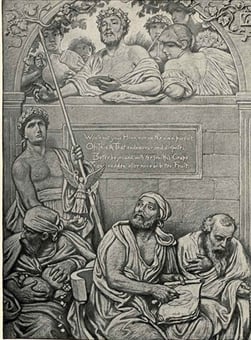 Why did the Rubaiyat, a poem written by Omar Khayyam, a Persian polymath born in 1048, become a smash British success in the nineteenth century? This owes almost entirely to its expert translation, which, when published by Edward FitzGerald in 1859, was the first moment English-language readers had access to this literary triumph of the Islamic Golden Age. The translation was also an authoritative one. To this day, it is extremely difficult to find the poem translated by anyone but FitzGerald, and considering the breadth of writers who have since been influenced by his version, including Eugene O'Neill, Daphne du Maurier, and Jorge Luis Borges (who wrote an essay about the subject), it is easy to see why the original text has remained supreme.
What has changed most over time is the illustrators. My own volume accompanies each quatrain with an evocative black-and-white drawing, one for all 75 of them. This particular edition was completed by illustrator Edmund Sullivan in 1913, and many artists before and since have taken up the job, including Willy Pogany, Edward Burne-Jones, the incandescent Edmund Dulac, and Lincoln Perry, who released a new edition of the FitzGerald Rubaiyat in June of last year.
As to be expected, high-quality editions of the Rubaiyat make for hot collector's pieces. Below are some of the most important and striking editions of the poem ever printed.
1. Edward FitzGerald First Edition
There were some five printings of the Rubaiyat in FitzGerald's lifetime, produced as Omar Khayyam's poem became a surprisingly popular title with the reading public. But before all that, FitzGerald welcomed his translation to the world as a commercial failure, through a modest print run of just 250 copies. Even fewer from this inaugural run exist today, and for this reason, an original 1859 edition of the poem can go for tens of thousands of dollars.
2. Elihu Vedder Illustrated 1884 Edition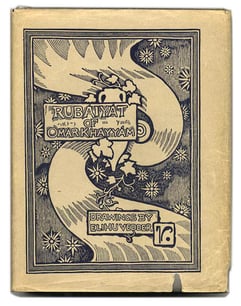 A thoroughly remarkable nineteenth-century edition comes from America, illustrated by Elihu Vedder and published by Houghton Mifflin in 1884. (In reality, it comes in two editions: the octavo version was printed in 1894 after the folio version sold out in just six days in 1884.) Prices typically run around $800-$3,000, but as much can be expected for the volume that inspired this assessment from the Smithsonian American Art Museum: "Vedder's Rubáiyát set the standard for the artist-designed book in America and England." High praise, but not unfounded.
3. Edmund Dulac Illustrated Editions
For over a century, the Rubaiyat has been a darling for fine presses, usually of the lavishly decorated, limited-in-quantity variety. One such example is Edmund Dulac's 1909 illustrated edition of the book, printed by London publisher Hodder and Stoughton, to a small run of 750 copies. Luckily, there have been many reprints since, including mid-century ones from the likes of Garden City Books, so that today's collectors can still own well-made volumes featuring what may be the most beautiful and exquisite Rubaiyat illustrations to date.

4. Edmund Sullivan Illustrated Editions
A first edition of the 1913 Edmund Sullivan Rubaiyat, published by Metheun & Co., can run for more than $1,000, but luckily for those with a more modest budget, it's been reprinted enough that with a little sleuthing, you can get your hands on the same detailed and varied illustrations for much cheaper.
Overall, the Rubaiyat is a title with a diverse and rich publication history, and if you own a copy (or have a favorite) that we didn't include here, please feel free to mention it in the comments below.