A Rolling Stone article* about Leonard Cohen which appeared just after his death in November 2016 described Cohen as a "song poet." As many of you might know, Cohen's music made him famous, with songs such as "Suzanne," "So Long, Marianne," and "Hallelujah." The article cited Nick Cave, who depicted Cohen as "the greatest songwriter of them all," defining him by his undefinable status of "utterly unique and impossible to imitate no matter how hard we tried." Indeed, Leonard Cohen was a "song poet," as the Rolling Stone article declares, but he was also a published poet whose early books, in particular first editions, are now highly collectible—and quite expensive! If you're interested in learning more about collecting the poetry of Leonard Cohen, you've come to the right place. Just like you, we're not only fans of collecting poetry, but we're also enormous fans of Leonard Cohen.
A Poet and Writer First, a Songwriter Next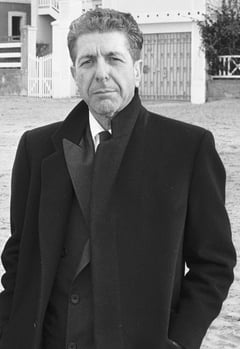 Cohen's career, in some respects, started in Europe. In the final interview** he gave to The New Yorker, he talked about living in London in 1960 on a writing grant from the Canada Council for the Arts. His first published collection of poetry appeared shortly after he had arrived in London. In 1961, the Canadian press in Toronto, McClelland & Stewart, published the first edition of The Spice-Box of Earth. The publication of this book would represent just the beginning of a long relationship with McClelland & Stewart, which went on to publish numerous books of poetry and fiction by Cohen. A first edition of The Spice-Box of Earth is extremely hard to come by, even in less-than-fine condition, particularly because of the delicate front cut-out on the original dust jacket, which reveals a portrait of a young Cohen in black and white.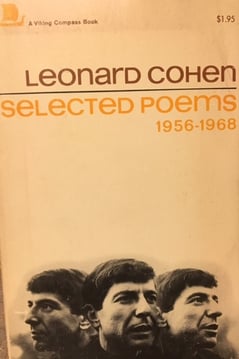 After "growing weary of London's rising damp and its gray skies," Cohen decided to move to Hydra, a small Greek island in relatively close proximity to Athens. It was on Hydra that Cohen wrote many of the poems that would go into his second published collection of poetry, Flowers for Hitler (1964). This first Canadian edition was published by McClelland & Stewart in Toronto, Canada. This may be one of the more difficult first editions to locate for your poetry collection, but if you do spot one in a bookstore, you should know what you're looking for. The first edition and first printing was published with gilt-lettered black cloth and a white dust jacket with red text and images. This is a tough book to locate in fine to near-fine condition. If you do see one, you'll need to plan on spending between $1,000 and $2,000.
Earlier, Rarer Poetry
If you already have some of the early collectible works of poetry on your bookshelf, you might seek out some of Cohen's even earlier, rarer poetry. As you might know, Cohen grew up in Montreal. He later attended McGill University, which was responsible for publishing some of his early poems. If you find yourself around Montreal, it could be a great opportunity to look for Cohen's first published work of poems.
More specifically, we recommend seeking out a copy of Let Us Compare Mythologies, published by the McGill Poetry Series by Contact Press in 1956. About 400 copies of this first-edition hardcover poetry book were printed. We haven't seen one selling for less than $10,000. The Toronto press McClelland & Stewart, which we mentioned above, published a reprint in 1966 which should be more accessible to collectors who are just starting out.
If you just so happen to obtain first editions of Leonard Cohen's early work, there are still very exciting first editions of his early novels to seek out. And if you're just beginning a collection, you might turn to some of the reprints first. Although they're not nearly as collectible as the editions we've mentioned here, they'll give you incredible access to the thinking and language that helped to shape Cohen's marvelous songs.
*Read the full article from Rolling Stone here. **Read Cohen's interview with The New Yorker here.