Vladimir Vladimirovich Mayakovsky (1893-1930) has long been a poet of interest not only in Russia, but in many different regions of the world. Mayakovsky was born in what is now Georgia and moved to Moscow during his childhood. He quickly joined the Bolsheviks and the Russian Social Democratic Party, which ultimately resulted in his arrest and imprisonment. Upon his release, he began studying art and writing poetry at the Moscow School of Painting, Sculpture, and Architecture, and he published his first poems in 1912. He soon became tied to the Futurists and, ultimately, to the Russian Revolution. Mayakovsky's poetry and later his works of drama made him famous in the Soviet Union, and following his death, Triumphal Square in Moscow was renamed in his honor. First editions of his books in the original Russian language are highly collectible, but so are a number of interesting translations.
Translations During Mayakovsky's Lifetime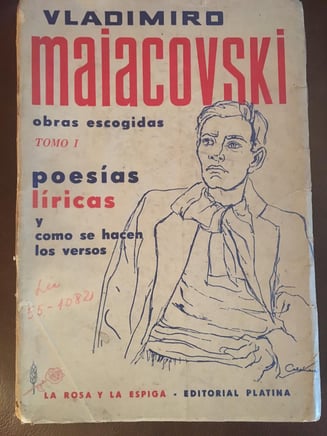 In the Soviet Union at the time Vladimir Mayakovsky was writing, Russian translators were thinking about how Mayakovsky's work could be made available in other European languages. One of the most interesting items—if you can find one, and if you can afford it—is a 1930 French translation of four Mayakovsky poems. The translator and creator of the pamphlet, Andrey Gippius, produced the text in an extremely small run of only 150 copies. The cover is handwritten in Russian, with the poems inside handwritten in French. The runs of the pamphlet were done through lithograph. The four poems translated include "For the Voice," "Six Monks," "Christopher Columbus," and "Left March." Very few of these exist. If you do locate one, you should expect to pay several thousand dollars.
In 1925, also translated and published during Mayakovsky's lifetime, is a Czech edition of 150,000,000: Revolutionary Epic [150,000,000: Revoluční Epos]. Bohumil Mathesius (1888-1952), a Czech poet, translator, and philosophy professor, translated the work from Russian to Czech. The glorious front cover, as well as interior illustrations, were done by Václav Mašek (1893-1973), a notable Czech illustrator and graphic designer. Edice Atom published the book in Prague. This text was published only in a limited, numbered edition, and it tends to sell for upwards of one thousand dollars. This would be a very interesting item to add to any Mayakovsky collection.
Seeking Translation Published After Mayakovsky's Death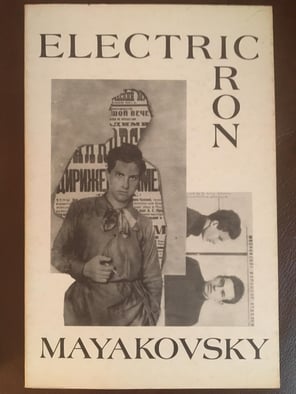 While many interesting translations of Mayakovsky's work were produced during his lifetime, the poet seems to have grown in global popularity following his suicide in 1930. In 1957 in Buenos Aires, Argentina, Editorial Platina published a series of four books making up the "Selected Works" [Obras Escogidas] of Mayakovsky in Spanish. Each of the books is bound in paper wraps—each in a different color—with a line drawing of Mayakovsky on the cover, with photographic reproductions of the writer inside every text. We managed to locate each of the four volumes in rare and antiquarian bookstores in Buenos Aires, but they're pretty difficult to find elsewhere. If you can locate these books, they make an interesting and colorful addition to a Mayakovsky collection. By the way, in Spanish, the poet's name is written Vladimiro Maiacovski.
Now, onto an English translation to add to your collection. There are many fantastic Mayakovsky translations in English published by university presses in the U.S., but our favorite translations are those done by Jack Hirschman. We particularly like Electric Iron (1971), translated from the Russian by Jack Hirschman and Victor Erlich. This book contains a selection of poems, and it was published in Berkeley, California in a run of 1,000 copies in Spring 1971. Electric Iron was distributed by the famous Serendipity Books (now closed), with a cover collage made by Hirschman.
Collecting Mayakovsky's works in translation can be exciting, and your finds can make interesting additions to any Russian literature, poetry, or Mayakovsky collection.