The world was a much bigger place in the early part of the 20th Century. Communication was slower, transportation was relegated primarily to ships and trains, and the odds of connecting and interacting with like-minded creatives were much slimmer in an age without text messages and email.
Yet even with massive geographical and cultural obstacles, three literary titans managed to influence each other, cross paths, and even collaborate to create some of the most vibrant and interesting contributions to the literary arts.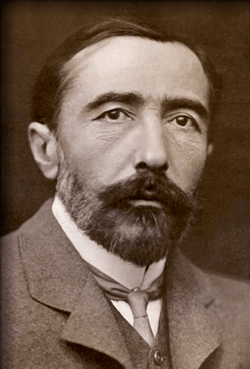 Joseph Conrad, Ford Madox Ford, and Ernest Hemingway may have occupied different time periods, aesthetics, and views on life, love, and literature, but surprisingly there are a number of threads that tie together these three masters of their craft. Below are five uncommon commonalities that bind Conrad, Ford, and Hemingway.

Adventure

Conrad, Ford, and Hemingway were all driven by the urge for adventure—to the travel the world, experience the extraordinary, and discover the thrill of danger and the precarious. Before his career as a writer, Conrad, who is best known for his landmark novel, The Heart of Darkness, worked as a merchant marine for almost twenty years, traveling by sea from Europe to India, China, and other far east locales. Conrad served on a number of ships in a wide range of capacities and ranks, and much of his writings were influenced by this adventures on the high seas.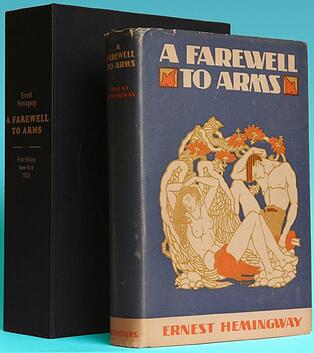 While not necessarily drawn to the majesty of sea trade, Ford and Hemingway sought their own adventures via the romance and glamour of battle. Ford enlisted in the British army during World War I at age 41 and served several years on the front lines in France, experiences that he fictionalized in his series of works, Parade's End (1924-1928). Hemingway's military service, which he depicted in several of his classic novels, including The Sun Also Rises and A Farewell to Arms, enlisted in the military in 1918 and served as an ambulance driver in Italy for several months before sustaining severe shrapnel wounds and being invalided back to the United States in 1919.
Collaboration

It's right around the year 1900 when, through a series of coincidences, Conrad and Ford find themselves living in the same remote region of France as they continue to hone their craft. Ford was immediately taken with Conrad's work, particularly his modernist aesthetic and his use of 19th Century realism through stylish prose and anti-heroic characters. Conrad served as Ford's mentor and one of his biggest influences, and the two collaborated on a trilogy of novels over a ten-year span: The Inheritors (1901), Romance (1903), and The Nature of a Crime (1924, though the composition of the novel was completed much earlier). Conrad also had immense influence on Ford's well-renowned The Fifth Queen trilogy, of which Conrad called "the swan song of historical romance."
The Transatlantic Review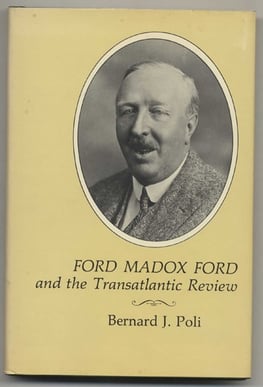 Founded by Ford in 1924 in Paris, The Transatlantic Review was instrumental in publishing some of the most provocative, interesting fiction, non-fiction and poetry of the time. While only 12 issues of the magazine were released before it ceased publication, some of the most influential authors of the 20th Century graced its pages, including James Joyce, Gertrude Stein, Ezra Pound, and one little-known author, Ernest Hemingway. Ford immediately realized and admired Hemingway's bravery in taking on gritty subject matter and his stark, economy of language, and subsequently published a number of Hemingway's early short stories and novel excerpts. Ford thought so highly of his work he made Hemingway a guest editor of the August 1924 issue, and the two men established a creative friendship many consider the epitome of the ex-patriot, salon experience of 1920's Paris.
Braddocks

Hemingway was well-known for basing his stories and novels on his own experiences, infusing his characters with qualities of friends, family, lovers, and acquaintances. In 1926, after years of publishing short stories and novel excerpts in publications like the aforementioned The Transatlantic Review, Hemingway published his debut novel, The Sun Also Rises, in which he based the minor character of Braddocks on Ford. The novel concerns Jake Barnes' experiences as an ambulance driver during World War I, a boxer, a bullfighter, and life as an ex-pat, and in keeping with the theme of drawing from real life, Braddocks, much like Madox, is something of a brash, hyperbolic character who provides color to an already colorful tale.
A Moveable Feast

Hemingway's memoir, A Moveable Feast, was published in 1964 just after his suicide, and it contains diary entries, recollections, and small scenes providing insight into Hemingway's years in Paris gallivanting about the City of Lights with some of the day's most influential writers, poets, and artists. It's an intimate portrait of a moment in history when some of the century's highly creative individuals converged in one place at one time, and Hemingway devotes an entire chapter in the book to recounting one of his earliest meetings with Ford at a cafe in Paris. The remembrance, though as off-the-cuff as it may seem, is intricately detailed and depicts Ford as a lively, esoteric man, perhaps best typified by Hemingway's description of Ford "as upright as an ambulatory, well-clothed, up-ended, hogshead."