American readers have long been interested in crime fiction (as have readers from other parts of the world). In recent years, Scandinavian crime fiction, or "Nordic noir," has become a household favorite for many English-language readers, thanks to translations of such texts as Stieg Larsson's The Girl with the Dragon Tattoo and other novels in the series, or Jo Nesbø's Harry Hole detective books. Of course, writers from the U.S. and other parts of the world have continued to write works of crime fiction that have become immensely popular. We want to give you some recommendations of books you may know and others that may be new to you.
Edna Buchanan's
You Only Die Twice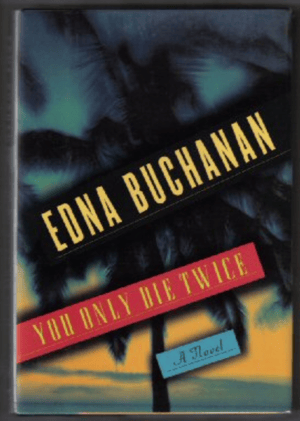 The Los Angeles Times described Edna Buchanan as "the queen of crime." As one of the first female crime journalists to work in Miami—who won a Pulitzer Prize for her reporting work in 1986, we should add—she has been paving the way for women crime writers in the U.S. and across the globe. Her crime novels are largely part of the "Britt Montero Mysteries" series. In You Only Die Twice, the narrative begins as Britt Montero overhears a radio transmission about a "floater" on Miami Beach.
If you like this novel, we recommend checking out the others in the Britt Montero series.
Mũkoma wa Ngũgĩ's Black Star Nairobi
This Kenyan crime fiction novel was written by the son of the famous Kenyan novelist and postcolonial scholar and theorist Ngũgĩ wa Thiong'o. What's Black Star Nairobi about? As you might have expected, it's set in Nairobi, Kenya. The action takes place in December at a time of turmoil surrounding the Kenyan presidential elections. Here's the tagline: "Two cops—one American, one Kenyan—team up to track down a deadly terrorist." The novel follows the detectives on "a round-the-globe pursuit of the shadowy forces behind it all," according to the Melville House Publishers description of the book.
This isn't Mũkoma wa Ngũgĩ's first book. The author became known for his crime writing with the novel Nairobi Heat, which first introduced his readers to the detectives Ishmael and O, who continue to appear in his books. He is a professor in the English Department at Cornell University.
Jakob Arjouni's Happy Birthday, Turk!: A Kayankaya Thriller
While a lot of crime fiction sells well and is read widely by many different audiences, it's not that often that crime novels also become significant works of literary translation. In the novels of Jakob Arjouni, however, that is precisely the case.
Jakob Arjouni is a pen name for Jakob Bothe, a German writer of crime fiction who died in 2013 at the age of 48. In his short lifetime, the novelist won the German Crime Fiction Prize for One Man, One Murder, but previously rose to global fame with his first novel, Happy Birthday, Turk!, which he wrote while he was still a teenager. Each of the books follows the private detective Kemal Kayankaya. Arjouni's novels have been translated by the Finnish poet Anselm Hollo as well as by Anthea Bell, the translator for the literary works of W.G. Sebald.
James Ellroy's Blood on the Moon
Unlike many other crime novelists, James Ellroy's books do not tend to follow the same detective over different crimes and spaces. Instead, each of his novels tends to introduce new characters and scenarios for the reader. Yet in most cases, the location does stay the same: Los Angeles. Ellroy was born in Los Angeles in 1948, and many of his crime novels have become international bestsellers. If you like the writing style in Blood on the Moon, rest assured that he has written more than sixteen novels for you to check out.
Keigo Higashino's The Devotion of Suspect X: A Detective Galileo Novel
Are you looking for a work of Japanese crime fiction that often is listed among the best mystery narratives from the country? This is it. The novel follows Kusanagi, a police detective who is investigating the circumstances surrounding a man's death. A divorce single mother, Yasuko Hanaoka, quickly becomes the prime suspect. The novel is part of the "Detective Galileo Series," and The New York Times Book Review described it as "ingenious."
Arnaldur Indriđason's Jar City: An Inspector Erlendur Novel
While Swedish, Danish, and Norwegian crime fiction has long been on bestseller lists across the globe, Icelandic literature is a more recent addition to the fiction that has been described as "Nordic Noir." We love how this novel begins with a seeming contradiction: "The words were written in pencil on a piece of paper placed on top of the body. Three words, incomprehensible to Erlendur." If you enjoy Indriđason's writing in this crime novel, you should know that there's a lot more where that came from.
There are so many exciting crime novels from across the globe. If you make your way through our list and need some more recommendations, let us remind you that all of the novelists we mentioned have many books that are out there to discover. And of course, we urge you to explore new crime fiction writers from other regions of the world, as well.