When you think of Dan Brown, you may think of books filled with intrigue and cyphers, or you may think of movies starring Tom Hanks. However, what you aren't likely to think of is a man whose original career aspiration was to be a songwriter and pianist.
Dan Brown is a brilliantly successful author who was born on June 22, 1964 in Exeter, New Hampshire. His father was a teacher of mathematics at Phillips Exeter Academy throughout his youth. His mother served as church choir master and organist at the Episcopalian Church in Exeter. Throughout his life, Brown would find ways to honor teachings from both his father and mother.
Brown's father inspired a love of cryptology in his young children by introducing it into their household at a very early age. To find Christmas presents, Brown would have to participate in elaborate treasure hunts, where codes and cyphers were the cornerstone of the puzzle. This relationship with cryptology would eventually play a large role in the types of books that Brown would write.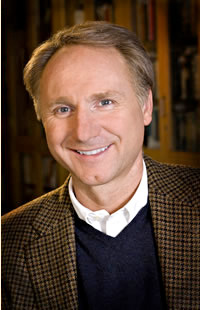 After graduating from Amherst College, Brown attempted to follow in his mother's musical footsteps, producing a children's music album titled "SynthAnimals" and the adult album "Perspective." Neither was a huge success, but they sold just enough that he was encouraged Brown moved to Hollywood to pursue his dream.
In Hollywood, Brown never reached what could be deemed as true success as a songwriter, but he did find success on a personal level. He met Blythe Newlon, the National Academy of Songwriter's Director of Artist Development. She became a champion of his, and in 1993 championed Brown all the way back to New Hampshire where they would eventually wed, and he would begin work as an English teacher at his alma mater Phillips Exeter.
Following Brown's reading of Sydney Sheldon's novel, The Doomsday Conspiracy, in 1993, Brown considered becoming a writer of suspense novels himself. In 1998 the first of his six thrillers, Digital Fortress, was published. While Brown only has six books to his name, he has over 200 million books sold as of today. He is the one of the highest selling authors of all time, with the fewest number of total books.
Collecting Dan Brown's Books
Despite the number of books in print today, it is possible for true fans to find really rare, collectible versions.
Digital Fortress

Before the bestseller The Da Vinci Code, Dan Brown focused this novel on the most powerful intelligence organization on earth: the National Security Agency, an ultra-secret, multibillion-dollar agency many times more powerful than the CIA.

Angels And Demons

When world-renowned Harvard symbologist Robert Langdon is summoned to his first assignment to a Swiss research facility to analyze a mysterious symbol, he discovers evidence of the resurgence of an ancient secret brotherhood known as the Illuminati. Angels & Demons marks Langdon's first appearance. Details>>

The Da Vinci Code

Harvard symbologist Robert Langdon receives an urgent late-night phone call: the elderly curator of the Louvre has been murdered inside the museum. Near the body, police have found a baffling cipher. While working to solve the enigmatic riddle, Langdon is stunned to discover it leads to a trail of clues hidden in the works of Da Vinci -- clues visible for all to see -- yet ingeniously disguised by the painter. Details>>

Deception Point

As a NASA satellite spots evidence of an astonishingly rare object buried deep in the Arctic ice, the President dispatches White House Intelligence analyst Rachel Sexton to the Ice Shelf. Accompanied by a team of experts, she uncovers the unthinkable: evidence of scientific trickery -- a bold deception that threatens to plunge the world into controversy. Details>>