Dashiell Hammett lived many lives. Before he became a well-regarded writer, Hammett was a newsboy, a stevedore, a laborer, advertising copy writer, and a sergeant in the ambulance corps during World War I. However, it was his experiences as a detective that gave him the impetus to write mystery novels.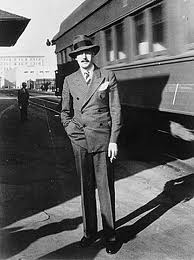 After dropping out of school at thirteen years old, Hammett held a long series of odd jobs. He finally landed a job as a detective at Pinkerton Agency, where he discovered his calling. But at the start of World War I, Hammett enlisted in the Army. He served in the Motor Ambulance Corps for only a short time before he contracted tuberculosis and was discharged. Hammett realized that his weak health precluded a career as a detective, so he decided to try his hand at writing detective stories instead.
Hammett first had a story published in the society magazine The Smart Set. But that wasn't a great fit for his gritty, vernacular storytelling. Hammett found a better fit in Black Mask, a pulp magazine that published his "Arson Plus" in 1923. Hammett published frequently in Black Mask, eventually building quite a following. In 1930, Hammett would create his most famous character, Sam Spade of The Maltese Falcon. The book was so popular, it went through seven printings in its first year. The 1941 movie adaptation starred Humphrey Bogart.
Hammett followed up with The Golden Key in 1931. According to the New York Times, the novel was in "the tradition of Sherlock Holmes, with the style of Ernest Hemingway." That same year, Hammett took up with fellow writer Lillian Hellman. The tempestuous relationship introduced Hammett to the sophisticated world of high society.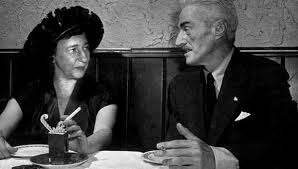 In 1934, Hammett published The Thin Man. The book caused quite a stir as it depicted an open marriage. Although the book was censured numerous times (or perhaps because of that), The Thin Man was also Hammett's most successul book. Hammett, beguiled by Hollywood, turned from novel writing and began re-writing scripts. He also wrote for radio shows.
By the mid-1930's, Hammett had also begun to engage in left-wing politics and the defense of civil liberties. He enlisted as a private in the Army during World War II, and after he was discharged began teaching at a Marxist institute. He also took on the role of president for the New York Civil Rights Congress. It was in this capacity that he posted bail for a group of Communists charged with conspiracy. When Hammett refused to provide the names of the people who posted bail, he was thrown in jail, too. His books were promptly blacklisted. After five months, Hammett was released--only to learn that the IRS was looking for him...and 100,000 in unpaid taxes.
Now far from the public eye, Hammett sank into despair and drinking. His alcoholism, combined with his ever tenuous physical state, took its toll on his health. He suffered a heart attack in 1955 and died in New York City six years later.
Hammett helped to usher in a new era of detective novels. The hard-boiled detective genre differed from the softer works of Agatha Christie and other writers rife with Victorian-era characters, such as lords and ladies. Hammett's mysteries featured violent career criminals, and they were often written from the perspective of a private investigator narrator.