The Adventures of Huckleberry Finn by Mark Twain has long been considered an invaluable work of literature – some even declaring it THE great American novel. Students pore over it in the classroom; lovers of classic literature read it, and reread it, and reread it again; and book collectors dream of adding rare editions to their libraries.

Although Twain's story manages to capture a long-passed time period while also exploring themes relevant to today's society, books of a certain age rarely make the headlines of our newspapers. They are seen as time capsules, set in stone just as they are. But the final word on Huckleberry Finn has yet to be spoken. In recent years, a long-lost manuscript was discovered among the belongings of a deceased woman living in upstate New York. This early version of the novel includes scenes that were edited out of today's copies, along with copious amounts of notes in the margins in Twain's own handwriting.
After a Discovery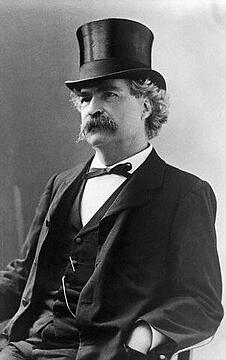 While the initial response to such a find is an understandable display of enthusiasm and curiosity, several steps must occur before the contents of a manuscript can be released to the public. First, the document must be authenticated. This was especially important for a document, such as Twain's, that has been rumored to exist for years. Authentication involves handwriting analysis, confirming the age of the document, and tracing its journey to the place of its discovery (known in book collector's parlance as provenance).

Once Twain's manuscript was authenticated, a copyright battle ensued. Three claims were made: one by his sisters; another by the Buffalo and Eerie Library where Twain had sent the document; and the last by the Mark Twain Papers Project. The library eventually received rights to the document itself, but all three parties agreed to split the publication rights. Several years later, Random House was chosen to publish the manuscript.
Deleted Scenes
Diving into these "new" additions of Huckleberry's adventures provides plenty of fodder for discussion and debate among readers. These aren't just minor edits in word choice or sentence structure – large chunks of the novel were removed before publication. One of the most significant edits includes the removal of 54 pages detailing a fight scene on the raft. This raises many questions. Why did Twain originally write this scene? What did he intend for it to communicate to the reader? Did he think it failed, or did he change his mind about the message he wanted to deliver? Meanwhile, another extra fifteen pages were also discovered in which Jim shares ghost stories with his companion, Huck.
Twain's Notes
Readers looking for answers rather than questions will delight in the annotations composed by Twain's own hand. These comments solved one major mystery scholars have speculated about for years – at which point in the novel did Twain take his three-year break from writing? It was previously believed to occur right after the steamboat crash, but, according to his notes, the break happened one chapter later.
Literature in Motion
Discoveries like Twain's long-lost manuscript remind the world that even classic literature is not a static presence in our culture. New findings can always alter the perception or discussion surrounding a work. Reading a book once does not give the full experience. Comparing editions and analyzing earlier manuscripts will reward you with different interpretations and long sought-after answers.
A Selection of Collectible Mark Twain Books
Adventures of Huckleberry Finn (Pennyroyal Press Centenary Edition)

Hand-crafted and published by the Pennyroyal Press in an edition of 350 sets, this being #227, with the folio of 49 individual prints, originally unsigned, at the 100 year anniversary of the publication of the first edition. While uncalled for with this publication, in this set, Mr. Moser has signed each print in the folio. This is one of only 4 known examples of this set complete with the folio of 49 prints each individually signed by Barry Moser. Details>>

Adventures of Huckleberry Finn (First Edition)

An attractive First Edition in Very Good+ condition. Minor rubbing to edges of boards and spine ends, still beautifully bright gilt decorated cover and spine, occasional light smudges. In a stunning, custom-made, half-leather clamshell case. A most handsome and desirable copy with all the commonly known early issue points present. Details>>

Confidential Terms to Agents: The Occidental Publishing Company of San Francisco and the Selling of 'The Adventures of Huckleberry Finn'

A desirable copy in Fine condition. One of three hundred copes printed for Ronald R. Randall at the Arion Press in San Francisco. A facsimile of the broadsheet, with a note by Professor Victor Fischer of the Mark Twain Project at the University of California at Berkeley. Details>>

Huck Finn & Tom Sawyer Among the Indians

While Twain began this sequel to The Adventures of Huckleberry Finn in 1885, he stopped fifteen thousand words into the work, in the middle of a sentence and never went back. It would have never been finished unless the University of California wouldn't have asked author Lee Nelson to do so. Details>>

Huckleberry Finn Again

Clarke's bibliographical study on one of the most famous works of literature, Mark Twain's "Adventures of Huckleberry Finn." An attractive First Edition/First Printing, privately printed in a limited edition of 50 copies in Fine condition, minor traces of fading to board, minimal foxing spots to rear end papers. Details>>

Mark Twain: A Bibliography of the Collections of the Mark Twain Memorial and the Stowe-Day Foundation

William McBride's indispensable work, covering the full breadth of Mark Twain's writings after Merle Johnson's first Twain bibliography in 1910 and the entries in Jacob Blanck's Bibliography of American Literature in 1957. Shows cover and title page photographs for most entries in addition to occuring points of entry, further includes summaries of every letter owned by the Mark Twain Memorial And The Stowe-Day Foundation. A beautiful unread First Edition/First Printing limited to 1,500 copies in Fine condition in alike dustjacket. Details>>