Born in New York City on November 20th, 1936, Don DeLillo has become an acclaimed author whose postmodernist works portray an America which has become consumed by materialism and dumbed down by a culture of meaningless interactions. He grew up in a working-class Italian American family in the Bronx. His was a childhood filled with family and wholesome entertainments. He described it as one in which he was "always out in the street. As a little boy I whiled away most of my time pretending to be a baseball announcer on the radio. I could think up games for hours at a time. There were eleven of us in a small house, but the close quarters were never a problem. I didn't know any other way."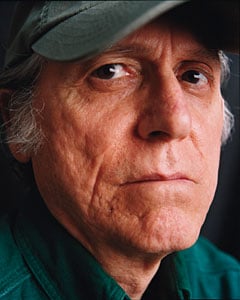 It was not until he was a teenager that he began to truly take an interest in both reading and writing. When he took a job as a parking attendant where he had hours with little to do, he developed a reading habit, which he refers to as the beginning of his "golden age of reading." Writers that DeLillo has said he read and whom he attributes influence were people such as James Joyce, William Faulkner, Flannery O'Connor and Ernest Hemingway. He also attributes influence to jazz musicians such as Ornette Coleman, Mingus, Coltrane, and Miles Davis. DeLillo credits his parents and their willingness to accept his desire to write and encouragement of a literary career which allowed him to gain eventual success.
After graduating from Fordham University with a degree in Communications in 1958, DeLillo began work in advertising. He spent five years working as a print advertising copywriter. In 1960, he published his first short story, "The River Jordan," in Epoch, the Cornell University Literary magazine. In 1964, he quit his job and began his life as a writer. Interestingly though, when he speaks of his early writing career he notes that "I quit my job just to quit. I didn't quit my job to write fiction. I just didn't want to work anymore." While he began his first novel America in 1966, he has said that "I wish that I had started earlier, but evidently I wasn't ready. First I lacked ambition. I may have had novels in my head but very little on paper and no personal goals, no burning desire to achieve some end. Second I didn't have a sense of what it takes to be a serious writer."
Once DeLillo evolved into the writer's life, he was fairly productive. He produced six novels from 1971 to 1978. He has reflected upon this prolific period of writing and said that perhaps if he had taken more time with these novels that were mildly successful he would have produced better work. It was not until he published White Noise in 1985 that DeLillo became both an artistically and commercially acclaimed novelist. When White Noise won the National Book Award for Fiction and DeLillo remained detached from his success. He delivered a simple and confounding acceptance speech: "I'm sorry I couldn't be here tonight, but I thank you all for coming."
White Noise was his first literary success, which he followed up with others in the works Libra (1988), Mao II (1991), and Underworld (1997). However, since Underworld many of his books have faced a renewed criticism. His most recent work, Point Omega (2010,) is very different from his sprawling epics like Underworld and America, Point Omega is a brief 117-pages and contains only three characters whose conversations last mere sentences. His works have moved from pictures of American culture to more philosophical pieces which are more interested in the subject of time. At 76, DeLillo appears to be looking for meaning in the minutiae of life, perchance to find significance where many are too consumed by the world around them to take time to stop and look.