Yesterday Doris Lessing, author of more than 55 works of poetry, fiction, opera, and non-fiction, passed away. The Nobel laureate was known for free thinking political activism and innovative literary form. Lessing was born in Iran to British parents, and she spent much of her childhood in Zimbabwe. She made her novel debut in 1950 with The Grass Is Singing, but did not gain attention from the literary world until 1962, with The Golden Notebook.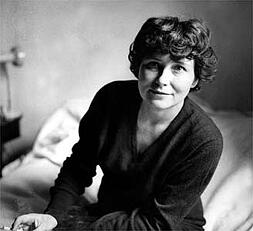 Lessing frequently challenged norms in the world of literature. Her early works are squarely Communist, though she later went on to explore Sufism. In 1980 she tried to get two novels published under the pseudonym Jan Somers to illustrate the difficulties faced by new authors. While other authors often shy away from being called science fiction authors, Lessing embraced the genre, preferring to call it "space fiction." Meanwhile she was loathe to be labeled a feminist author.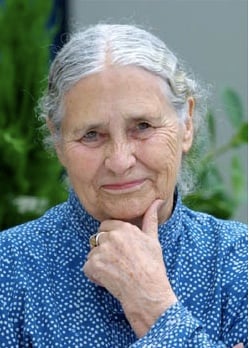 When Lessing learned that she had won the Nobel Prize for literature in 2007, she responded, "Oh Christ...I couldn't care less!" Her response didn't surprise anyone who knew her well. In awarding the prize, the Swedish Academy called Lessing "that epicist of the female experience, who with scepticism, fire and visionary power has subjected a divided civilisation to scrutiny." Lessing was the oldest recipient of the award at the time and only the eleventh woman to win it.
After declining damehood, Lessing did accept appointment as a Companion of Honour in 1999. She also received the David Cohen Prize for lifetime achievement in British literature in 2001, and was named a Companion of Literature by the Royal Society of Literature.
Doris Lessing in Her Own Words
Lessing will undoubtedly long be remembered as an author who forever changed the world of literature. The greatest legacy she leaves us are her words, which she shared most generously over the years--not only in writing, but also in speeches and interviews.
"Think wrongly if you please, but in all cases think for yourself."
"With a library you are free, not confined by temporary political climates. It is the most democratic of institutions because no one -- but no one at all -- can tell you what to read and when and how."
"Whatever you're meant to do, do it now. The conditions are always impossible."
"What's terrible is to pretend that second-rate is first-rate. To pretend that you don't need love when you do; or you like your work when you know quite well you're capable of better."
"Any human anywhere will blossom in a hundred unexpected talents and capacities simply by being given the opportunity to do so."
"The great secret that all old people share is that you really haven't changed in seventy or eighty years. Your body changes, but you don't change at all. And that, of course, causes great confusion."
| | |
| --- | --- |
| You like this update? | |