If anyone has a poker face, it is Doyle Brunson. Born on August 10, 1933, he was the first player to earn $1,000,000 in poker tournaments and has won ten World Series of Poker tournaments throughout his career. A master of the game, Brunson is ranked second for all time in poker play.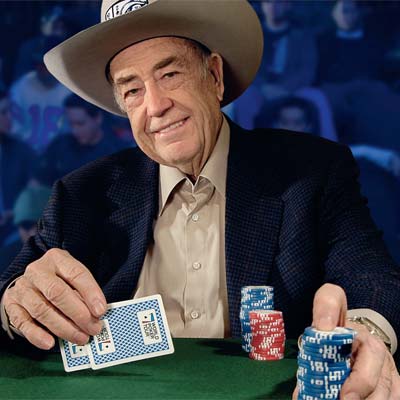 When Brunson was born in the small town of Longworth, Texas, he never dreamed that he would rise to such fame. In fact, in his small 100 person town, his focus on athletics rarely kept him still long enough to play more than the casual game of Five Card Draw. Today, however, he remembers finding the game "easy."
In high school, Brunson was a member of the All-State basketball team, and was also an accomplished track star. These talents earned him admittance at the nearby Hardin Simmons University in Abilene, Texas where he was offered a position on the Minneapolis Lakers basketball team. However, he was dealt a raw hand when working at a gypsum factory during the pre-season. When a stack of sheetrock shifted at the factory he instinctively tried to block its fall. Instead, the sheetrock landed on his leg, breaking it in two places. His NBA hopes ended before they truly began.
During his recovery, Brunson shifted his focus to his education and to poker. After earning several degrees and landing his first real job as a machines salesman, he quickly discovered that he could earn over a month's salary in under three hours playing poker. Within a few days, Brunson decided to become a professional poker player.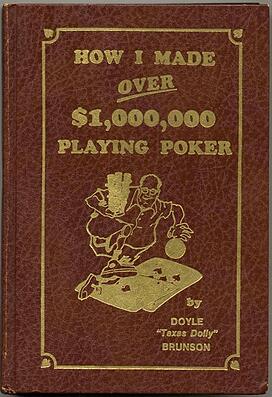 During the early days of his career, he played in illegal games around the country, was a member of the band of traveling poker sharks known as the Texas Rounders, and was the first to introduce "power poker" to the world. In 1978, Brunson changed the world of poker completely with the publication of How I made over $1,000,000 Playing Poker. The book is widely considered the Bible of poker.
Brunson has had a long an illustrious career earning over $6 million in live games with almost $3 million coming directly from the World Series--more than almost any other player. He was admitted to the Poker Players Hall of Fame in 1988.
On July 5, 2014, Brunson announced via his twitter account that he will not be playing the main of event of the World Series. At 80 years of age, he decided that the hours "are just too damn long" and used the hashtag #oldpokerplayersneverdietheyjustfadeaway.