Born in Trinidad in 1932, V.S. Naipaul earned a Nobel Prize in Literature "for having united perceptive narrative and incorruptible scrutiny in works that compel us to see the presence of suppressed histories." Naipaul struggled in the fledgling years of his writerly life to find a distinct voice, first in Trinidad and later during his tumultuous years at Oxford. He would show off that vaunted scrutiny in his earlier comic novels before taking the same blend of high style and high insight to a career's worth of more tragic novels and travel writing. For the sheer power with which colonial histories are unearthed in his writing, Naipaul remains one of the most lauded writers alive. Here are some interesting facts about him.
1. He Wanted to Be "Very Famous" for Writing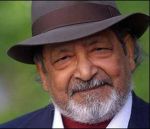 Having grown up with a father who was a journalist and aspiring writer, V.S. Naipaul grew up with a great reverence for his future vocation. To wit, he decided that he wanted to be a writer at age 10. Not only that, but he knew at a young age that he wanted to be not just 'famous' but 'very famous', a wish that seems to have panned out remarkably well.
2. He Wrote his First Story Collection in Five Weeks
While he doesn't quite measure up to, say, Jack Kerouac, having written such a well-regarded work as Miguel Street (1959) so quickly is nothing to scoff at. This speed becomes especially striking when one considers that his later novels would often take him years to finish, leaving him physically and emotionally drained.
3. His Early Influences Were Extremely Obscure
In a Paris Review interview, the great Trinidadian author noted that the works that most spoke to him when he was initially finding his voice were not the typical fare for a writer of his era. Rather, the works that he points to as particularly inspirational are his father's stories, and a Spanish picaresque novel published in 1554 called Lazarillo Tormes. The anonymously written work was banned in Spain do to its heretical content, and was referenced in Don Quixote (1605).
4. He Was a Presenter for Caribbean Voices
The BBC program, which Naipaul worked on for a stretch of time after finishing his degree at Oxford, showcased young Caribbean writers, including future Nobel Prize winner Derek Walcott.
5. He Essentially Eloped with His First Wife
Naipaul met Patricia Hale (who would spend much of their married life supporting Naipaul financially) at Oxford. To their families, the pair seemed a rotten match. As such, Naipaul and Hale married without informing any of their friends or relatives. While they may not have gone to Reno to do it, this surely counts as an elopement.
6. He Wrote A House for Mr. Biswas (1961) in Pencil
Following the limited attention paid to his first two books, Naipaul went into his next novel with trepidation bordering on despair. So uncertain was he of his subject that, like an unsure crossword puzzler, he refused to write in pen.
7. He Wrote an Ethnography of Republicans.
Naipaul gained a wide readership for his travel writing as he had for his novels. He ensnared readers with his carefully considered (though often controversial) portraits of India, the Caribbean, and elsewhere. In this vein, he was sent by a magazine editor to cover the 1984 Republican National Convention in Dallas, leading him to write "Among the Republicans," an anthropological study of a "white tribe in the United States."
8. As an Interviewer, He Never Uses a Recorder
The Nobel Prize-winner ascribes his success in writing non-fiction more to raw talent than anything, and he therefore eschews many of the usual trappings of journalism. Per Naipaul, "(using a recorder) shortens the labor and makes the whole thing more precise—it puts me in control. Also, people find it hard to believe, but an hour and a half with anyone is as much as any text of mine can take."