Mickey Spillane, one of the most popular American mystery writers of the twentieth century, is known for his gritty, gruff writing. His work is violent, dark, and utterly successful; his first novel sold over one million copies. Known for the character Mike Hammer, Spillane's work on his mystery novels did not limit his work as a writer. He wrote television shows, movies, and children's books, winning the Junior Literary Guild award for his 1979 story, The Day the Sea Rolled Back. However, his writing is best remembered for his use of vivid descriptions, short words, and fast transitions to help immerse readers in the story.
To get a feel for Mickey Spillane's writing, here are eight quotes that depict his signature style:
1. "I don't like people. I don't like any kind of people. When you get them together in a big lump they all get nasty and dirty and full of trouble. So I don't like people including you. That's what a misanthropist is." — The Big Kill
2. "I was a ruthless bastard with a twisted mind who could look on death and find it pleasant. I could break an arm or smash in a face because it was easier that way than asking questions. I could out-fox the fox with a line of reasoning that laughed at the truth because I was the worst of the lot and never did deserve to live. That's what that damned judge thought anyway."— One Lonely Night
3. "God, but it was fun! It was the way I liked it. No arguing, no talking to the stupid peasants. I just walked into that room with a tommy gun and shot their guts out. They never thought that there were people like me in this country. They figured us all to be soft as horse manure and just as stupid." — One Lonely Night
4. "'It was easy,' I said." — I, the Jury
5. "Pretty and beautiful are two different things. Only a few women are pretty, but even one who's not so hot to look at can be beautiful. A lot of guys make mistakes when they turn down a beautiful woman for one who's just pretty." — The Big Kill
6. "He was staring at my face. His eyes couldn't leave my eyes and his flesh was already dying with the fear inside him. He tried to talk and made only harsh breathing sounds. He raised his hands as if I were something evil and he had to keep me away. I was evil. I was evil for the good. I was evil and he knew it. I was worse than they were, so much worse that they couldn't stand the comparison. I had one, good, efficient, enjoyable way of getting rid of cancerous Commies. I killed them." — One Lonely Night
7. "Not a hunch. A fact. Some small, trivial fact. What was it? Could it be the answer? Something was bothering me terrifically. I tried some more beer. No. No. No ... no ... no ... no ... no. The answer wouldn't come. How must our minds be made? So complicated that a detail gets lost in the maze of knowledge. Why? That damn ever-present WHY. There's a why to everything. It was there, but how to bring it out? I tried thinking around the issue, I tried to think through it. I even tried to forget it, but the greater the effort, the more intense the failure." —The Mike Hammer Collection, Vol. 1
8. "Guys like you can't escape the city. Hell, you a got a blood contract with this place. You're married to the old girl." — Kiss Her Goodbye
Can't get enough mystery and detective fiction? Read on:
For decades, the Los Angeles area has captivated writers of hardboiled detective fiction. In the last 100 years, we've read about the exploits of Sam Spade and Philip Marlowe, and we've watched a variety of actors play these detectives on the silver screen. Indeed, as an epicenter of film production, Hollywood has brought cinematic narratives of the quintessentially American hardboiled detective to viewers across the globe. Let's take a look at the novels that introduced gritty Southern California to readers and the film adaptations that followed them.
Hardboiled Novels and the Rise of the Detective Narratives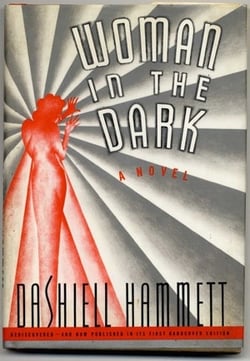 In the 1920s, Dashiell Hammett — perhaps one of the best-known hardboiled writers of the 20th century — began writing fiction that centered around Southern California. His most famous work, The Maltese Falcon(1930), introduced readers to Sam Spade, the detective at the center of the novel. In the author's introduction to the book, he described the character as "a dream man in the sense that he is what most private detectives . . . would like to have been and in their cockier moments thought they approached."
As Hammett went on to explain, Sam Spade was unlike any other detective in literary history. The character was shaped by the ravages of mechanized warfare and the stark realities of the economy that pervaded daily life. For Hammett, Spade represented a new kind of detective in the American imaginary: "Your private detective does not . . . want to be an erudite solver of riddles in the Sherlock Holmes manner; he wants to be a hard and shifty fellow, able to take care of himself in any situation, able to get the best of anybody he comes in contact with, whether criminal, innocent bystander, or client."
Hammett's famous detective inspired Raymond Chandler as he drafted novels from the 1930s through the 1950s featuring another hardboiled detective, Philip Marlowe. Chandler's famous detective appeared in The Big Sleep (1939), Farewell, My Lovely (1940), and The Long Goodbye (1953). And Raymond Chandler isn't the only novelist who drew inspiration from Dashiell Hammett's work. Decades later, James Ellroy revamped the genre of hardboiled fiction with novels also set in Los Angeles and the surrounding Hollywood Hills, such as The Black Dahlia (1987) and L.A. Confidential (1990). Read more >>
Sources:
Corliss, Richard. (July 22, 2006). The Prince of Pulp. Retrieved Jan. 28, 2019, here.
Mickey Spillane. (n.d.). Retrieved Jan. 28, 2019, here.