American writer EL Doctorow was born on January 6, 1931 and passed away on July 21, 2015. He has been called a master of historical fiction, and is a rarity in the modern literary world for also being a commercial success.
Doctorow was born in New York to Russian American parents, attended public high school. He then studied philosophy at Kenyon College, where he studied under writer and critic John Crowe Ransom.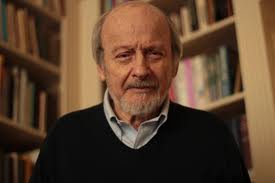 Among Doctorow's first jobs was reader for Columbia Pictures. He read a book a day in search of stories that would translate visually onto the silver screen. After three years, his only find was 1959's "They Came to Cordura," one of Gary Cooper's last films. It was a box office failure, and Doctorow was sure he could write better than what he'd been reading. His response was his first novel, the western Welcome to Hard Times, published in 1960. The movie, starring, Henry Fonda, was released in 1967.
In the late 1950's, Doctorow moved into publishing as an editor at the New American Library, then later at Dial Press. He worked with James Baldwin, Norman Mailer, and more. And he managed to have his second book, the sci-fi Big as Life, published in 1966.
At this point, Doctorow became more focused on his own writing and left publishing for academia. He would go on to teach at the nation's top institutions, and remains at NYU today. He next wrote The Book of Daniel, published in 1971. It was loosely based on the case of the Rosenbergs, American Communists executed for selling information related to the atomic bomb to Russia during the Red Scare. The book earned Doctorow his first National Book Award nomination and established him in the literary world. Over a decade later, the book was made into the film Daniel, starring Timothy Hutton and Mandy Patinkin. Doctorow wrote the screenplay, the only one of his novels he ever adapted for the screen.
1975's Ragtime earned Doctorow commercial success as well as critical acclaim. It received the National Book Critics Circle Award for fiction in 1976, and is number 86 on Modern Library's top 100 novels of the twentieth century. Ragtime would later be adapted for stage and screen. It was followed by Loon Lake, published in 1980 and a finalist for the National Book Award, and 1985's World Fair, winner of the National Book Award.
His 1989 novel, Billy Bathgate, recieved even more accolades. This story of a fatherless young man adopted into the mob won the PEN/Faulkner Award and the National Book Critics Circle Award, and was a runner up for the Pulitzer Prize William Dean Howells Medal from the American Academy of Arts and Letters.
His next two books, The Waterworks (1994) and City of God (2000), were overlooked for prizes but still acclaimed. In 2002, his short story "Jolene: A Life," about an abused girl in foster care, which was published in the New Yorker in 2002, and was included in Doctorow's 2004 collection, Sweet Land Stories.
Doctorow was back on top with 2005's The March, about Union General William Tecumseh Sherman's brutal taking of the South. The book won the author his second PEN/Faulkner award, garnered a National Book Critics Circle Award, and was a finalist for the National Book Award and Pulitzer Prize.
2013 was a year full of honors for Doctorow. He became the 26th recipient of the Medal for Distinguished Contribution to American Letters by the National Book Foundation. He was also awarded a gold medal by the American Academy of Arts and Letters for his body of work that spans more than 50 years. In his introduction of Doctorow at the award ceremony, George Saunders called Doctorow a "national treasure." But success has done anything but make Doctorow complacent; later this month he'll publish Andrew's Brain.
A Selection of Collectible EL Doctorow Books
The March-Easton Press Edition

This special limited edition of The March is illustrated by Civil War specialist Mort Kunstler. It's signed by both Doctorow and Kunstler. It's a wonderful, scarce book, and this copy is still in the shrink wrap. It includes all the traditional Easton Press trimmings: premium leather, silk moiré end leaves, distinctive cover design, raised bands, accented in real 22KT gold, satin ribbon page marker, gilded page edges, long-lasting, high quality acid-neutral paper, sewn pages for strength and durability. Details>>

City of God-Franklin Library Edition

This edition of City of God truly represents the Franklin Library at its best. Simply superb quality, it's bound in genuine leather and features gilded, sewn in pages and ribbon marker. The special Limited Edition of only 1,100 copies is signed by Doctorow. This book has never been read and is in As New condition. Details>>

Ragtime

Ragtime changed our very concept of what a novel could be, blurring the line between fantasy and historical fact, between real and imagined characters. The setting is New Rochelle, New York in 1909, and the characters are three remarkable families whose lives become entwined with the likes of Henry Ford, Harry Houdini, J. P. Morgan and Sigmund Freud as well as an immigrant peddler and a ragtime musician from Harlem whose sense of justice drives him to revolutionary violence. This is a handsome first edition in brown gilt-stamped cloth in Fine condition and alike dust-jacket. Details>>

The Book of Daniel

This first edition is in unread Very Good+ condition in Very Good dust-jacket with little edge wear. There are traces of tape marks on boards and inside dust-jacket, and glue residue on back free endpaper. Bright red top stain. Details>>

Lives of the Poets

Lives of the Poets is a novella and six stories about a young boy writing letters and signing them with the name of his dead father, a young woman being shot at by a hunter in the field, and a suburban schoolgirl dying in an exploding car. This handsome first edition is in fine condition in alike dust-jacket and is signed by Doctorow on the title page. Details>>

Sweet Land Stories

Doctorow's collection of short stories, composed in a variety of moods and voices, portray the American spiritual landscape, ranging over the American continent from Alaska to Washington, DC. This attractive first edition, signed by Doctorow on the title page, is in unread fine condition with alike dust jacket. Details>>