Nobel laureate Elie Wiesel passed away on July 2, 2016. Wiesel was born in Sighet, Romania in 1928, and is best known for his voice as a Holocaust survivor and advocate for peace. Wiesel's family was separated during World War II when the German army deported their Jewish community of Sighet to Auschwitz-Birkenau. His father died just weeks before the camp was liberated by American troops in 1945. After the war, Wiesel was reunited with two of his three sisters in France; his mother and youngest sister did not survive.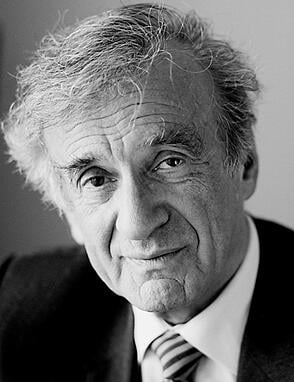 For ten years, Wiesel could not find the words to write about his experiences. Finally, a meeting with French writer Francois Mauriac convinced him to end his silence. His 900-page memoir in Yiddish, Un di velt hot geshvign (And the World Remained Silent), was condensed to 127 pages and published as La Nuit in France. When it was finally published in America as Night, Wiesel became a voice for Holocaust survivors everywhere.
Reflecting on his writing experience, Wiesel said, "I'd... say to a young writer, if you can choose not to write, don't. Nothing is as painful. From the outside, people think it's good; it's easy; it's romantic. Not at all. It's much easier not to write than to write. Except if you are a writer. Then you have no choice."
Wiesel's writings and humanitarian efforts earned him the Nobel Peace Prize in 1986. He continued to advocate for the Jewish people and victims of genocide around the world.
| | |
| --- | --- |
| | The legend of the Golem is a long-enduring staple of Jewish folklore. According to years of oral tradition, a famous scholar and rabbi brings a creature of clay to life in 1580 Prague. Wiesel collects various stories of the Golem and turns them into first-hand anecdotes in this illustrated volume for children (drawings by Mark Podwal). |
| | The son of a Holocaust survivor travels back to Germany to uncover his father's story of pain, loss, revenge. The Fifth Son is narrated by the son, but includes the voices of his father (including letters to an absent son, Ariel) and fellow survivors Bontchek and Simha. Originally published in French and translated in 1985 by Wiesel's wife, Marion Erster Rose. |
| | This volume collects essays, speeches, and memories of Wiesel's distant and recent past, including his experience of testifying against Nazi murderer, Klaus Barbie, and the first printed version of his 1986 Nobel Peace Prize acceptance speech and lecture. An intimate look into Wiesel's life, especially as a follow-up to Night. |
| | Raphael Lipkin is a visiting professor at the Mountain Clinic, a psychiatric hospital in upstate New York. His visit is a secret, personal quest. He seeks answers about truth and about life and death. But how can he find answers unless he finds Pedro who is a prisoner in Stalin's archipelago? Translated from the French by Marion Wiesel. |