When it comes to poetry of the heart, Elizabeth Barrett Browning's work has been read, enjoyed, and quoted among lovers and students since the nineteenth century. Today she is most famous for the poems she composed for her husband, fellow poet Robert Browning. While these poems certainly deserve their praise, Browning's success actually began long before meeting her husband, and her collective work spans much farther than just her love poems.
The Poet-Laureate of Hope End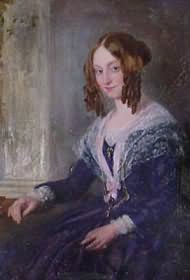 Browning was born on March 6, 1806 in Durham, England. She was the oldest of twelve children in a wealthy family who had earned their fortune through sugar plantations in Jamaica. While being educated at home, Browning first fell in love with the world of books and literature early in life. She began writing poetry at the age of four, and her father declared that she was the "Poet-Laureate of Hope End" when she was six. While talking about her childhood, she once said, "Books and dreams were what I lived in, and domestic life only seemed to buzz gently around like bees about the grass."
A Passion for Learning
Along with a deep passion for poetry, Browning was also fascinated by the history of England, Rome, and especially Greece. She had a tutor to guide her in her studies, but she also embraced learning on her own time, determined to master Latin and Greek. She is most well known as a poet, but she also wrote essays and translated many works in English.
A Sickness Takes Hold
Browning fell ill when she was fifteen years old, and her undiagnosed disease plagued her for the rest of her life. Although two of her sisters had similar symptoms, it was only Browning who never experienced a recovery. Despite her poor health, it was during this time that she began to publish her writing. Her first works were largely inspired by classical Greek literature.
A Passion for Politics
As Browning grew older, she began to develop an interest in politics. She held strong beliefs, especially when it came to slavery. Her work during this time often spoke out against cruelties at the hands of slave owners and supported the abolitionist movement. It is possible that these stances caused a falling out with her father, who had owned slaves until the United Kingdom's Emancipation Act took place.
A Love Story Begins
In 1944, Browning published a collection titled Poems that caught the eye of fellow poet Robert Browning. He arranged to meet her through her cousin, John Kenyon. According to Robert Browning, her poems had a "fresh strange music," "affluent language," "exquisite pathos," and "true new brave thought." They quickly fell in love and married, and Browning wrote her most famous collection, Sonnets from the Portuguese, for him. Unfortunately, Browning's father disapproved of the match. After the couple married in secret, she was cut off from the family wealth and disinherited.
Her Final Years
Despite the struggles with her family, Browning had many reasons for joy after she married. Her poetry was becoming more and more popular, and she had a large circle of friends, which included William Makepeace Thackeray, Harriet Beecher Stowe, Charles Kingsley, and John Ruskin.
As her health deteriorated before her death, she continued to stay informed and opinionated about politics. The final poetry collection she published dealt with many political issues in Italy, where she lived at the time. She passed away at age 55 on June 29, 1861, peaceful in her husband's arms.