Writing Western novels hardly seems like an effective way to make it in Hollywood, but for Elmore Leonard it worked wonders. The 1940s through 1960s saw peak interest in Western dramas due to the affordability and availability of cinema and television. Leonard began his writing career during the 1950s producing a string of Westerns: five novels and thirty short stories. However, once the genre had peaked, Leonard moved on to a more contemporary interest—crime.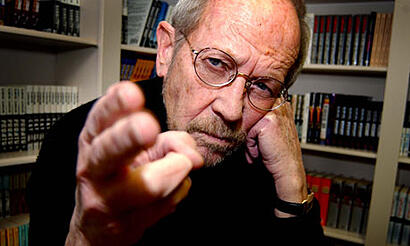 After several of Leonard's stories were adapted to film, including 3 – 10 to Yuma (1953) and The Captives (1955), he quit his job and began writing full time. Building on his success, Leonard focused on novels that could easily be translated into screenplays. His first non-Western novel, The Big Bounce, was published in 1969. It was made into a movie later that year and again in 2004, starring Owen Wilson, Morgan Freeman, and Charlie Sheen. However, this was not a dream come true for Leonard who declared that both movies were the worst ever made. His other film adaptations, Stick, Cat Chaser, and Mr. Majestyk, were also flops. Leonard's style, focusing on violence rather than rich dialogue, failed to attract moviegoers.
That all changed in the 1990s when Leonard collaborated with directors Barry Sonnenfeld, Quentin Tarantino, and Steven Soderbergh. Get Shorty, directed by Sonnenfeld, made the initial breakthrough in 1995. Two years later, Tarantino's Jackie Brown (1997) was released to great success—based off of Leonard's Rum Punch (1992). Steven Soderbergh's Out of Sight debuted in 1998.
Yet Leonard's success was fleeting. Little of his work made it to film or television after the 1990s until FX's premiere of Justified in 2010. Initially inspired by Leonard's short story, "Fire in the Hole" (2001), and novels Pronto (1993) and Riding the Rap (1995), Justified describes the life of Raylan Givens—a United States Marshal with controversial views of justice; a modern day cowboy complete with a ten-gallon hat. It should be no surprise that Leonard's final living masterpiece struck so close to his beginnings. He remained close to the production of the series until his death in 2013.
One of the greatest struggles faced by modern writers is Hollywood's interpretation of their work. More often than not, the Hollywood version severely weakens the story. While many believe that the movie adaptation of Leonard's novel Get Shorty (1990), gave him his name, his success was solidified after decades of work. His accomplishments are acknowledged in The Hollywood Reporter's ranking of "Hollywood's 25 Most Powerful Authors" where Leonard is positioned at the very top--second only to the legendary Stephen King.