Two Ponds Press has a vision: to celebrate and reinvent the fine art press. The Press succeeds in doing just that by working with artists from all over the world to create new and exciting pieces of fine printing. The works are something to behold, and the Press is currently in the process of crafting books that include poetry, children's lit, culinary art, photography, and much more. Read on for a brief introduction to the works of Two Ponds Press and more about the process and people behind them.
Two Ponds Press was founded by Ken Shure and Liv Rockefeller, the great-great granddaughter of John D. Rockefeller's brother William, who also happened to be an art collector.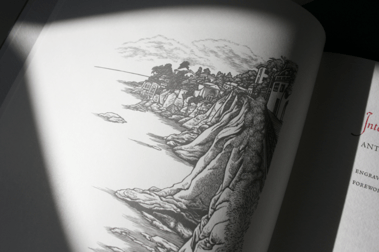 The organization is run out of Maine, and the first book published by Two Ponds Press was Interior Skies: Late Poems from Liguria. Interior Skies is a collection of poems written by Anthony Hecht at the Bogliasco Foundation's Liguria Study Center during the final year of his life. The book was set in Centaur and Arrighi types by Michael Bixler and printed by Arthur Larson at Horton Tank Graphics. Seventy-five limited edition copies were issued in the Spring of 2011. The book was designed by Russel Maret with illustrations by Abigail Rorer, including a portrait of Hecht himself and a depiction of the Ligurian seascape in relief engraving.
Two Ponds Press went on to publish The Little River in 2013. Written by Margaret Wise Brown—of Good Night Moon and Runaway Bunny fame—The Little River was previously unpublished. It has charming lyrical verse, and the story was a perfect fit for a fine print edition. Sixty copies of The Little River were released on handmade paper. The book was a stellar accomplishment and was recognized with both The Judges' Choice Award and the Parrot Prize for illustration at the UK Fine Press Book Fair in Oxford England.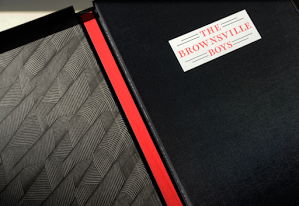 Switching gears from lyrical children's tales to mob bosses, Two Ponds Press hit it out of the park with its The Brownsville Boys: Jewish Gangsters of Murder, Inc. Released in 2014, the book was written by Larry Sullivan, a librarian at the John Jay College of Criminal Justice. Sullivan wrote in a distinctly noirish style. For example: "But Buchalter was no cheese eater and wouldn't squeal. On March 5, 1944, he went like a mensch to 'Old Sparkie' in Sing Sing."
The Brownsville Boys includes color portraits of such gangsters as Louis Buchalter and Albert (Tick Tock) Tannenbaum, etched by Bob Wakefield. Notable bookbinder Claudia Cohen put together the book's box and chemise. Sixty copies of The Brownsville Boys were printed—and the books are over a foot and a half by a foot. They make a truly impressive edition to one's fine press or New York-themed collection.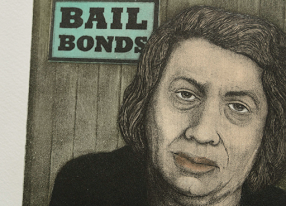 Any book from Two Ponds Press is a noteworthy collectible. We've only scratched the surface, but we hope this gives you a purview of the unique works, styles, and themes the press offers through its works.