Halloween is the time for ghouls, goblins, witches, and...ghosts. In the art world, ghosts aren't merely the phantoms, banshees, and spooks of horror stories; there are also ghosts of the pen. Wolfgang Amadeus Mozart would ghostwrite music for wealthy patrons, and plenty of famous authors have written works on behalf of others as well.
Katherine Anne Porter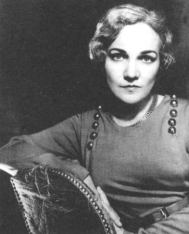 Katherine Anne Porter's incredible career spanned numerous genres. She published a novel, criticism, essays, and short stories. Porter's novel Ship of Fools was the best-selling novel in 1962. But long before that, in 1919, Porter had come to New York as a novice writer. She tried her hand at ghostwriting children's stories. Her first published work was My Chinese Marriage by Mae T Franking. The book chronicles an interracial marriage, unheard of in the 1920's. After Porter gained fame with a Pulitzer Prize and a National Book Award, Fraenking's estate reissed an annotated edition of the book with Porter's name featured prominently on the cover.
Kingsley Amis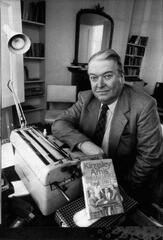 Biographer Zachary Leader called Kingsley Amis ""the finest English comic novelist of the second half of the twentieth century." The prolific author wrote over twenty novels, multiple volumes of poetry, and a variety of criticism, along with radio and television scripts. When Ian Fleming died, the James Bond creator's estate reportedly tapped Amis to help complete the unfinished Man with the Golden Gun. Though most of Amis' suggestions for that novel didn't make the final cut, Amis had another chance to contribute to the legacy of 007; he was invited to write Colonel Sun under the pseudonym Robert Markham.
James Ramsey Ullman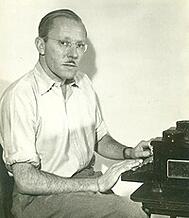 Avid mountaineer James Ramsey Ullman has published numerous books on mountaineering and geography, earning him a post on the 1963 American Expedition to Mount Everest as official historian. Ullman's Banner in the Sky was a Newbery honor book, and a number of his works have been adapted for film. Thanks to his credentials as both mountaineer and author, Ullman was the perfect person to ghostwrite the autobiography of Tenzing Norgay, Tiger of the Snows (later published as Man of Everest). Norgay was the sherpa who reached the summit of Mount Everest with Sir Edmund Hillary on May 29, 1953.
HP Lovecraft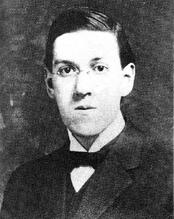 Legendary horror writer HP Lovecraft wrote for the pulp magazine Weird Tales for several years, and was so involved with the magazine that he was eventually invited to edit it (an opportunity he turned down). Lovecraft published stories under his own name in the magazine--and ghostwrote pieces for a number of other contributors. The most famous of these was Harry Houdini, for whom Lovecraft penned "Under the Pyramids (Imprisoned with the Pharaoh), a fictionalized account of a real-life Houdini experience. When Lovecraft passed away at age 46, August Derleth stepped in. An accomplished author in his own right, Derleth was also founder of Akrham House, the publisher of Lovecraft's books. Derleth finished The Lurker at the Threshold and the book is officially published by both men. But most critics and scholars argue that the work is mostly Derleth's.
Max Allan Collins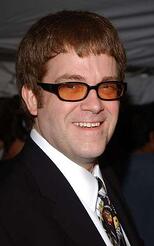 At the height of his career, Mickey Spillane was an incredibly prolific author. He often published a few books each year. That pace slowed, however, as Spillane aged and faced health complications. When the author passed away, he left an unfinished novel. Max Allan Collins, Spillane's literary executor, completed Dead Street and published it in 2006, the year after Spillane's death. Collins, a prolific crime author in his own right, wasn't a novice at ghostwriting; he'd assumed responsibility for the Dick Tracy comics in 1977 from founder Chester Gould. Collins wasn't credited for Dead Street on the cover, but his name appears on the book's copyright page and his role in the novel was never kept secret. He went on to write a number of Spillane novels, essentially returning Spillane to "peak productivity." Collins' seventh Spillane novel is scheduled for 2014.
Sinclair Lewis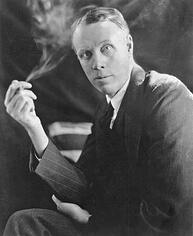 After Sinclair Lewis graduated from Yale University, he migrated among places and jobs in an effort to make a living by his pen. He soon began turning out shallow stories that appealed to a wide audience. He also earned money by selling plots to none other than legendary American author Jack London, including the plot for London's unfinished novel The Assassination Bureau, Ltd. It should come as no surprise that Lewis' pecuniary motivation led him to one rather unexpected ghostwriting gig: Lewis wrote Tennis as I Play It for Maurice McLoughlin. The book would help transform tennis into a more accessible, popular sport. Fifteen years later, Lewis would earn the Nobel Prize in literature--no thanks to his ghostwritten tome.
We originally stated that the name of Collins' first Spillane novel was Dead State. The post has been corrected to reflect the novel's correct title, Dead Street, and to clarify the transparency of Collins' role as ghostwriter of the novel. See an error? Please let us know! We strive for accuracy and appreciate your feedback.