Michael Crichton was one of America's most popular science fiction writers, known not only for his books but also for many successful film adaptations. His novels have sold more than 200 million copies worldwide and the movies have grossed billions in revenue. Beyond working as a novelist, Crichton was also a physician, director, and screenwriter. Here we highlight five of Crichton's bestselling novels.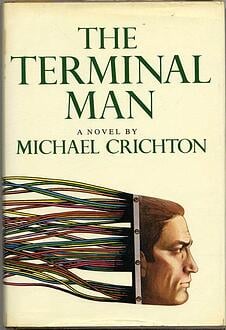 Crichton's first bestseller, The Andromeda Strain (1969), is the story of a satellite that returns to earth and carries with it a deadly, mutating microbe. Those in contact with the microbe experience extreme symptoms, from severe blood clotting to insanity and suicidal behavior. Most who become infected die within two minutes. The novel launched Crichton's career and was adapted into the 1971 film by the same name.
The Terminal Man (1972) involves a psychiatric patient who suffers from epileptic seizures and blackouts. During these episodes, he commits crimes and vocalizes nonsensical thoughts, asserting that the world is being taken over by machines. Doctors place the patient under extensive psychiatric testing and implant electrodes and a minicomputer in his brain to control the seizures. But the procedure goes haywire, launching a series of unexpected events.
Published in 1987, Sphere follows the character of Norman Johnson, a psychologist part of a U.S. Navy team tasked with investigating a spacecraft found at the bottom of the Pacific Ocean. Johnson and the other characters soon discover that the spacecraft, or sphere, was not the creation of aliens at all--it was created by humans in the future. The crew becomes trapped at the bottom of the sea and discover the mysterious and terrifying nature of the spacecraft.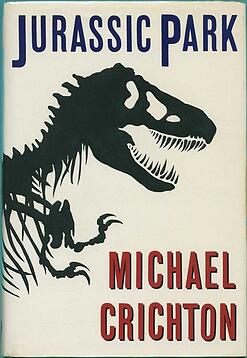 Jurassic Park is Crichton's best-known work and became a media franchise, including a film series, comics, and video games. Set off the coast of Costa Rica, the book describes an island theme park featuring real dinosaurs. The island's investors question the feasibility of the venture, so the park's creator flies in a renowned paleontologist to give his assessment. Yet unexpected incidents turn the park into chaos, and soon the dinosaurs are hunting humans. In the novel, Crichton examines cloning and its ramifications as well as chaos theory--using these ideas to explain the dissolution of the park.
In State of Fear (2004), a lawyer represents a millionaire philanthropist who becomes suspicious of the environmental organization he funds. His concerns lead to an investigation of an eco-terrorist group which orchestrates 'natural' disasters to publicize climate change. The novel topped The New York Times bestseller list and sold millions of copies. Reactions were mixed, however, largely over Crichton's portrayal of global warming. For a time, it became required reading for the Senate Committee on Environment and Public Works. However, a review in Nature said that the book was "likely to mislead the unwary."