Libraries create access to information and are seen as institutions that promote higher learning and research. However, for the smaller scholars, libraries can simply be a place for fun. Many public libraries focus on their children's area and make it a utopia that exposes children of all socioeconomic groups to art, literature, and a really good time. These are five wonderful libraries that create a haven for small minds yearning for activity and stimulation.
Laramie County Library, Cheyenne, WY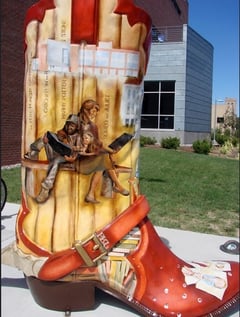 A giant chess set, a tiny bookmobile, and a wonderful "book factory" that is something out of Willy Wonka make this the place that kids don't want to leave. They don't have to, and when they turn 12, they can even start actively participating in the library as volunteers. Preteens also have the added benefit of the after-hours program where they can roam the library after it's closed and have the run of the place. The bells and whistles bring in the young readers, but they stay to engage in storytime, book clubs, and other great events that truly inspire and shape their growing minds.
Brentwood Library,
Brentwood, TN
It's like something out of Harry Potter. The room itself is made of books, and as you enter, you feel that you've shrunken down to the size of a small, book-hungry mouse. A talking owl, brought to life from a motion sensor, greets visitors, and the environment is packed with tiny, magical details including stained glass, murals, and sculptures. It's not just the physical environment that makes this place so remarkable. Brentwood also boasts a free lending library, and the citizens and their children can benefit from reading groups, after school tutoring, and visiting artists and performers of all types. From humble beginnings in 1983 as a few shelves at the back of a dry cleaners, Brentwood Library is now known as the "Crown Jewel" of the city.
Hardesty Regional Library & Connor's Cove, Tulsa, OK

Ever wish that your teenager wanted to visit the library? Like, for fun? Hardesty Regional Library in Tulsa, OK has done the work and gotten the funding to create a true teen destination in their theater "Connor's Cove" where jam bands, performers, readers, historical reenactors, and other events find a home and an audience.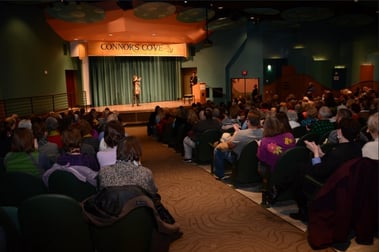 Funded by Roger Hardesty, a local businessman, the very cool nautical-themed performance space was designed to give both space and place for young people to experience live theater.
Birmingham Public Library,

Birmingham, AL



This amazing place will keep the idea of a "stuffy library" far from the minds of the young patrons fortunate enough to visit. An expansive atrium, amazing programming, sea creatures hanging from the ceiling, bright colors, and comfortable seating make this a perfect place to spend a weekend afternoon or school break.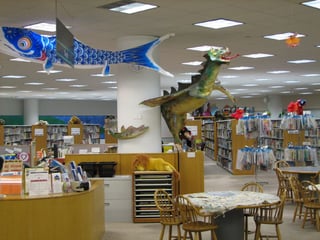 Catering to all ages, the library has programming for newborns to teenagers, who compete in an annual poetry slam and a Halloween Ball. Birmingham native and NFL player Jerricho Cotchery is an active part of the library team and hosts a teen tailgate party for participants in the summer reading program. The outreach at the library includes providing library cards to Head Start program participants and local schools, making sure all members of the community have access to the materials and programs.
ImaginOn: The Joe and Joan Martin Center, Charlotte, NC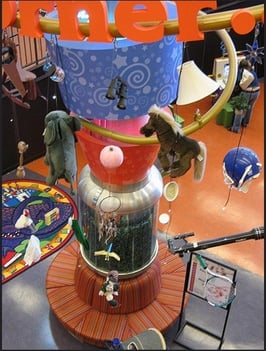 Many children's libraries have stages, auditoriums, or a theatrical component. But ImaginOn (located in Charlotte, NC) takes that concept to a whole other level. Made mainly from recycled materials, and catering to children of all ages, ImaginOn is part library, part state-of-the-art theater collective. There are two theaters, each with substantial space and capacity, and all of the costumes, sets, and props are made in-house.
The library also hosts performance, dance, and theater craft classes for students as young as five, leading all the way up to teen participants. The craft doesn't stop with live performances; ImaginOn is also home to a film and recording studio, all while serving the needs of patrons as a standard, traditional library with story time, books and materials, and areas for children of all ages.
-Kline, M. (2012). 10 Best Children's Libraries. Retrieved April 30, 2016, here.
-IMAGINON: It's a Library, a Children's Theatre and so much MORE! (n.d.). Retrieved April 30, 2016, here.
-Visit the Brentwood Library. (n.d.). Retrieved April 30, 2016, here.
-Connor's Cove. (n.d.). Retrieved April 30, 2016, here.
-10 Best Children's Libraries. (n.d.). Retrieved April 30, 2016, here.
-Charlotte MecklenburgLibrary. (2011, January 21). Experience ImaginOn! A library and theatre for youth [Video file]. Retrieved here.
-(2011, July 31). Laramie county library, public art, cowboy boot sculpture [Photograph found in Flickr.com, Cheyenne, WY]. Retrieved April 30, 2016, from https://www.flickr.com (Originally photographed 2011, July 31)
-(2014, December 6). 2014 Peggy V. Helmerich Distinguished Author Award [Photograph found in Tulsa, OK]. Retrieved April 30, 2016, from https://www.flickr.com(Originally photographed 2014, December 6)
-(2006, October 21). Bottom of story jar sculpture [Photograph found in Charlotte, NC]. Retrieved April 30, 2016, from www.flickr.com (Originally photographed 2006, October 21)