More than a century after his death, Alfred, Lord Tennyson remains one of the Anglophone world's most popular poets. Poems like "The Charge of the Light Brigade" and "Crossing the Bar" have become so ingrained in the cultural consciousness that T.S. Eliot's remark that Tennyson had "the finest ear of any English poet since Milton" seems a bit backwards. No doubt he had a great sense of the way the English language was used, but he also had a tremendous hand in shaping its usage. By the time Eliot would have imbibed the delectable melancholia that so defines Tennyson's best work, he would have been used to more and more poets doing their level best to sound an awful lot like Tennyson. Here are some interesting facts about him.
1.) He gave birth to some of our best clichés.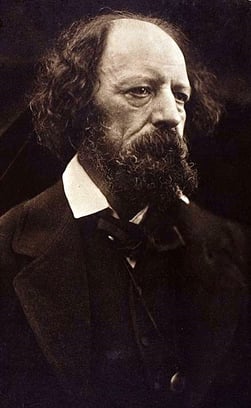 It seems likely that most of those who insist that "'Tis better to have loved and lost/than never to have loved at all" are largely unaware that those lines came from Tennyson. Likewise, "Theirs not to reason why/Theirs but to do and die." As a matter of fact, Tennyson's words are so often primed for the cultural zeitgeist that he remains the ninth most quoted person in The Oxford Dictionary of Quotations.
2.) He was a member of a secret society.
As with many of our best secret societies, membership in the Cambridge Apostles is, these days, hardly a secret. As such, we can note that the Apostles also boasted such luminaries as E.M. Forster and Bertrand Russell among its members. Though, naturally, they weren't contemporaries of the mid-nineteenth century poet.
3.) Queen Victoria loved his work.
Though Tennyson's promotion to Poet Laureate upon the death of William Wordsworth (which, as it happens, finally gave him the financial stability to marry his long-time paramour Emily Sellwood) was largely a product of Prince William's advocacy, his work did not go unnoticed by the imperious regent. The first time the pair met, Queen Victoria noted in her diary that Tennyson was "peculiar looking" and "oddly dressed." On their second meeting, however, the Queen made a point of telling Tennyson what a comfort his poem "In Memoriam A.H.H." had been upon Prince Albert's death.
4.) He had fans in Virginia Woolf and Thomas Edison, as well.

Or at least he had interested readers. His life and work prompted Woolf to write a play entitled Freshwater (1923), which depicted Tennyson playing host to Julia Margaret Cameron and G.F. Watts. Edison, meanwhile, was so taken with the poet that when he had invented technology that enabled him to record sound, he made a point of finding the poet in his old age and recording him reading a number of his best loved poems, including "The Charge of the Light Brigade."
5.) "The Charge of the Light Brigade" appears on an episode of Star Trek.
Star Trek: Deep Space Nine, to be more precise. Its season-six episode 'Sacrifice of the Angels' finds Miles O'Brien and Julian Bashir reciting the poem's third verse as their Starfleet prepares to enter a battle. It also served as the inspiration for Iron Maiden's 'The Trooper' and features prominently in Virginia Woolf's To the Lighthouse (1927).