"Don't over write. Let your characters tell the story and keep your nose out of it. Grab your reader on the first page and don't let go. If it sounds like writing, rewrite it. Leave out that parts that your readers tend to skip."
Such was Elmore Leonard's advice to his son. He had just finished reading the manuscript Peter Leonard's first novel, Quiver, and wanted to offer Peter some practical wisdom. Obviously, with over forty books to his name, Elmore was in a unique position to offer relevant insight. Meanwhile, Peter also went on to a successful career as a writer. It's no small wonder; writing, it seems, runs in the genes. A number of legendary authors have been fathers to another generation of writers.
Charles Dickens and Charles Dickens, Jr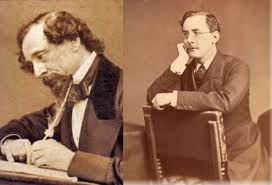 A truly beloved celebrity of the Victorian era, Charles Dickens remains a titan of British literature. He's best known for novels like A Tale of Two Cities, Oliver Twist, and A Christmas Carol. Dickens also sired a prodigous family. His eldest son, Charles Dickens, Jr, began working for his father as a sub-editor of All the Year Round in 1869. The younger Dickens inherited the magazine when his father passed away the following year. He only gave it up in 1879 because of his own failing health. Charles Jr may not have pursued fiction, but he did love dictionary writing. He published Dickens's Dictionary of London, Dickens's Dictionary of Thames, and Dickens's Dictionary of Paris. Charles, Jr also teamed up with his father's beloved friend Wilkie Collins to write John Jasper's Secret: Sequel to Charles Dickens' Mystery of Edwin Drood. He penned a number of introductions to posthumous editions of his father's novels.
HG Wells and Anthony West
Prolific author HG Wells distinguised himself as a "father of science fiction." He's best known for Invisible Man, Island of Dr. Moreau, and War of the Worlds. However, he also explored politics and the lives of the lower class. Some critics even argue that Wells was an apt successor to Charles Dickens. While Wells was married to Amy Robbins, he had an affair with fellow author Rebecca West. The couple had a child, Anthony West. When West published his first novel, Heritage, it was immediately apparent that he'd penned a roman a clef, and his mother didn't come off well. Mother and son had a falling out. West would go on to write more than a dozen novels, along with a biography of his father.

Kingsley Amis and Martin Amis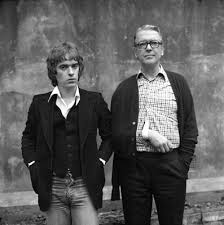 The son of a mustard manufacturer's clerk, Kingsley Amis came to be regarded as one of the greatest British authors of the twentieth century. He published twenty novels, six volumes of poetry, and various short stories, along with a memoir. Kingsley deeply admired Ian Fleming and the James Bond books, and in the 1960's he wrote several critical works (either anonymously or pseudonymously) about the legendary 007. In 1965, Kingsley published The James Bond Dossier under his own name. He also published the tongue-in-cheek The Book of Bond, or Every Man His Own 007 under the pen name of Lt. Col. William Tanner. Kingsley's son Martin Amis was inspired not only by his father, but also by James Joyce, Vladimir Nabokov, and Saul Bellow. He said that his father was never interested in his work, claiming, "I can point out the exact moment when he stopped and sent Money twirling through the air; that's where the character of Martin Amis comes in." Despite his father's disinterest, Martin is a critically acclaimed author in his own right, and he's inspired another generation of writers, including Zadie Smith and Will Self.
John Updike and David Updike
"America's man of letters," John Updike is best known for his "Rabbit" series. A prolific author, John averaged one book per year. He delved into the ordinary lives of the middle class, always attempting to "give the mundane its beautiful due." John owes much of his success to The New Yorker; though he spent only two years there, writing "Talk of the Town" columns, the magazine was always willing to publish his short stories and poetry. The New Yorker brought John Updike to a much wider, literate audience. His son, David Updike, also got his start at The New Yorker. David later published a collection of short stories, along with a quartet of books for young adults.
Stephen King and Joseph Hillman King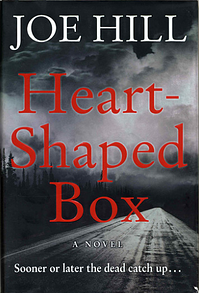 Stephen King has made a name for himself as a leading horror and suspense writer. He discovered his passion for the genre thanks to a paperback HP Lovecraft novel that had belonged to his father. Though King is perhaps best known for novels like Carrie and The Shining, he's also written numerous short stories. In 1997, Stephen's son Joseph Hillman King began publishing stories under the pseudonym Joe Hill. Joseph managed to win a few awards before Variety magazine blew his cover. Joseph's debut novel, Heart-Shaped Box, won the Bram Stoker Award, and the author has since earned a number of other accolades.