Elizabeth Gaskell was a woman ahead of her time. Her writing won the admiration of people like Charles Dickens, Charlotte Brontë, Charles Eliot Norton, and Harriet Beecher Stowe, among others. Like modern professionals, Gaskell and her husband often lived separate lives in order to accommodate their own vocations. However, both were supportive and involved in the other's career. At the time of her death in 1865, the literary magazine The Athenaeum described her as, "if not the most popular, with small question, the most powerful and finished novelist of an epoch singularly rich in female novelists." Here are five interesting facts about this Victorian career woman.
1.) She was the sole-surviving child from her parent's union.
Only two of her mother's eight children survived infancy, Elizabeth and her brother John Stevenson. Elizabeth was the youngest of the eight. Her mother died when Elizabeth was a little over a year old, and Elizabeth was raised by her aunt, Hannah Lumb, in Knutsford, Cheshire. Knutsford is the town on which she based Cranford. John Stevenson joined the Merchant Navy when Elizabeth was twelve. He was lost at sea during a voyage to India when Elizabeth was only eighteen, making her the only surviving child from her parent's union.
2.) Charles Dickens had great expectations for her.
Charles Dickens was a big fan of Gaskell's writing. He called her "my dear Scheherazade," a reference to the clever Arabic queen who is the storyteller of the Arabian Nights. After her first novel, Mary Barton, which she published anonymously in 1848, Dickens asked Gaskell to write something for his magazine, Household Words. She did, contributing the first installment of Cranford, which Dickens asked her to expand. Thanks to Dickens, who kept asking for more and more from Gaskell, Cranford became a sixteen-chapter serial novel.
3.) She had influential and important friends.
Gaskell was friends with Florence Nightingale. She wrote parts of North and South at Nightingale's childhood home, an estate called Lea Hurst, which is in Derbyshire. Some scholars believe the character Margaret Hale in North and South was inspired by conversations Gaskell had with Nightingale.
Likewise, Gaskell was friends with Charlotte Brontë. After Brontë died in 1855 her father, Patrick Brontë, asked Gaskell to write Charlotte's biography. Elizabeth Gaskell wrote The Life of Charlotte Brontë, which was the first Brontë biography ever written and arguably saved Charlotte's reputation.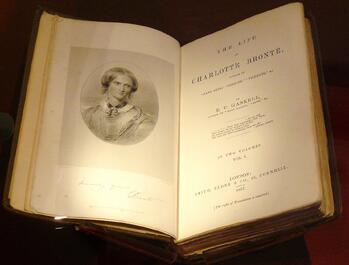 4.) She wrote about the tough stuff.
Gaskell's novel Ruth was so controversial she wouldn't even allow her own daughters to read it. Ruth explores themes of poverty, sexual exploitation, illegitimacy, and the lack of morality in the practice of social ostracism. Elizabeth Gaskell's husband, William Gaskell, was a Unitarian minister, and members of the congregation William served burned copies of Ruth.
5.) She bought a house without her husband's knowledge...and died there.
Gaskell died in a house her husband didn't know she owned. As she pushed harder and harder to divide her time between writing, social calls, motherhood, and charity work, she began to feel exhausted. She suffered from fainting and had terrible headaches. The Gaskells had lived in the industrial city of Manchester since their marriage in 1832. Elizabeth thought leaving the pollution of the city would improve her health. So, in the summer of 1865, she secretly bought a house in Hampshire intending to surprise her husband with it once she'd gotten it in order. She was visiting the house with her daughters in November of 1865. They were all in the parlor having tea when Elizabeth Gaskell suddenly collapsed from a heart attack at the age of fifty-five. Not only was William Gaskell shocked to find out his wife had died, but also that she'd bought a house.