Beatrix Potter's 23 original tales include her works published between 1902 and 1930. All of the tales take place in the same fictional universe, sometimes referred to as The World of Peter Rabbit. While all of Potter's work is wonderfully skilled and serves as a paragon of children's stories, her 23 original publications are the best known and tend to hold the most sentimental value for readers. Here's our selection of five of Potter's best efforts.
1. The Tale of Peter Rabbit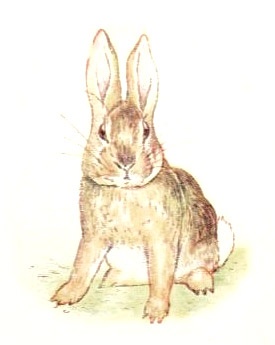 The plot follows Peter Rabbit, a young, mischievous, disobedient rabbit, as he disobeys his mother's orders and enters Mr. McGregor's garden to get a snack. When he eats too much, Peter looks for some parsley to help his stomachache and is seen by Mr. McGregor, eventually becoming completely lost before managing to find his way home.
Potter first self-published this story in December of 1901 and commercially published the following year. Several adaptations have been made, most recently a live action/CGI animated film was released in 2018 by Sony Pictures.
2. The Tale of Squirrel Nutkin
The second of Potter's published works follows a squirrel named Nutkin and his family as they collect nuts on Owl Island. While the other squirrels offer gifts to Old Brown, the resident owl, Nutkin taunts the owl with dances and song riddles. Old Brown eventually becomes annoyed enough to attempt to skin Nutkin alive, but Nutkin is able to escape only by losing most of his tail. Potter published this book with Frederick Warne & Co. in 1903, and it was an immediate success.
3. The Tale of Benjamin Bunny
As the sequel to The Tale of Peter Rabbit, The Tale of Benjamin Bunny follows Peter Rabbit and his cousin Benjamin on their adventure to Mr. McGregor's garden to retrieve the clothes Peter lost on his first trip into the garden. When they find the clothes, Peter, having partly learned his lesson, wants to leave, but Benjamin wishes to stay and gather onions and go on a walk. The two are eventually trapped in a basket by a cat for several hours before Benjamin's father comes to save them.
Following publication in September of 1904, the book sold over 30,000 copies by the end of the year. Aspects of this story were adapted into episodes of the BBC animated anthology series The World of Peter Rabbit in 1992.
4. The Tale of Mr. Jeremy Fisher
This tale follows the frog Jeremy Fisher as he goes fishing on a rainy day. He decides that if he catches more than five minnows, he will invite his friends over for dinner. After facing several challenges, including the fish not biting and rats forcing him to find a safer location, Jeremy is attacked by a trout and dragged to the bottom of the pond. He manages to escape and vows never to go fishing again. Published in 1906, the book sold well, like most of Potter's work, and saw multiple printings within the first year.
5. The Tale of Mr. Tod
The plot opens with a badger named Tommy Brock being entertained by Benjamin Bunny's father, Mr. Bouncer, who is also watching Benjamin's children. When Mr. Bouncer falls asleep, Tommy kidnaps the bunnies, taking them home to be eaten. Benjamin and Peter Rabbit chase after Tommy and find him at the home of a fox named Mr. Tod. As Benjamin and Peter mount a rescue attempt, Mr. Tod and Tommy fight, eventually causing enough damage to allow Benjamin and Peter to save the bunnies and return home.
Potter published this book in 1912 and found it especially popular among boys due to the lengthy fight at the end of the book. In 1995, this story was adapted to be included in The World of Peter Rabbit.