Born in 1936, John McCain dedicated his life to serving the United States. He graduated from Naval Academy in Annapolis and received a commission from the U.S. Navy. During his time serving in the Navy, McCain worked as a naval aviator and was captured during the Vietnam War, remaining a prisoner of war for five and a half years before his release in 1973. After retiring from the Navy in 1981, he entered politics, where he served in both the House and the Senate until his death in 2018. Many of his writings were done in collaboration with Mark Salter, who served for a time as McCain's chief of staff.
Let's explore some of McCain's notable titles.
Character Is Destiny: Inspiring Stories Every Young Person Should Know and Every Adult Should Remember
Consisting of a collection of biographies, this book, co-written with Salter and published in 2005, is split into seven parts. Each part examines a different broad quality McCain considers exemplary and is further broken down into more specific qualities. The biographies serve as illustrations to the traits the subject embodies. For example, Mother Teresa is used to show selflessness and contentment.
Thirteen Soldiers: A Personal History of Americans at War
Published in 2014 and written in conjunction with Salter, this book tells thirteen soldiers' stories and describes the wars in which they fought. Starting with the American Revolutionary War and ending with the Iraq War, McCain and Salter explore the major wars involving the United States and the experiences of a diverse group who fought in them.
Faith of My Fathers
McCain's first autobiography written with Salter is interspersed with stories from his father and grandfather, who were both four-star generals in the Navy. The book covers McCain's early life, time at Annapolis, and work as a naval aviator before turning to his five and a half years as a prisoner of war in North Vietnam during the Vietnam War. It discusses his capture, the torture and suffering faced by the prisoners, the faith that allowed him to survive, and his release in 1973. Released in August of 1999, the book spent 24 weeks on the New York Times Best Sellers list. In 2005, a television film version was released.
Worth the Fighting For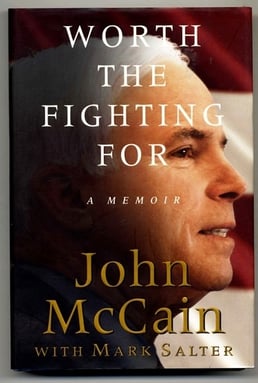 The second in McCain's autobiographical trilogy, also written with Salter, starts with his release from North Vietnam as a prisoner of war and, in the remainder of the first part, covers the rest of his time in the Navy until his retirement in 1981. In the second part, McCain discusses his political career in the U.S. House of Representatives and the Senate and his 2000 presidential campaign. Included with the autobiographical material are sections examining people and things who inspired McCain, including Theodore Roosevelt and For Whom the Bell Tolls. After its publication in 2002, the book spent one week on the New York Times Best Sellers List.
The Restless Wave
Written in collaboration with Salter, McCain's final installment of his autobiography trilogy covers his last ten years as a senator, his 2008 presidential campaign, and his work in Eastern Europe and the Middle East promoting human rights and democracy. After publication in April of 2018, the book debuted on the New York Times Best Sellers list and spent a further four weeks on the list.