Louisa May Alcott is best known for Little Women and its sequels. The different adaptations of the March family's adventures all too often overshadow Alcott's other work. All of her work possesses well written, intricate plots that often—in a manner similar to Jane Austen—promote a feminist ideal of women's role in society. She shows the importance of more wholesome, old-fashioned values rather than the opulent lifestyle free of responsibility and traditional morals many of the wealthy were participating in. All this Alcott accomplishes in her novels without sounding preachy or alienating her audience. Here are four of her lesser known works.
Eight Cousins
Rose Campbell starts the novel as a recently orphaned, sickly child. She awaits her Uncle Alec to return to raise her. His unconventional childrearing theories, while questioned by Rose's aunts, allow Rose to grow into a happier, healthier child. The novel follows Rose's relationship with her seven male cousins, Archie, Charlie, Mac, Steve, Will, Geordie, and Jamie. They, along with Uncle Alec, work to help Rose overcome her shyness and the societal ideals of how a young lady should act. Rose, by the end of the novel, develops into a well-rounded, educated girl well on her way to becoming a responsible, healthy young lady.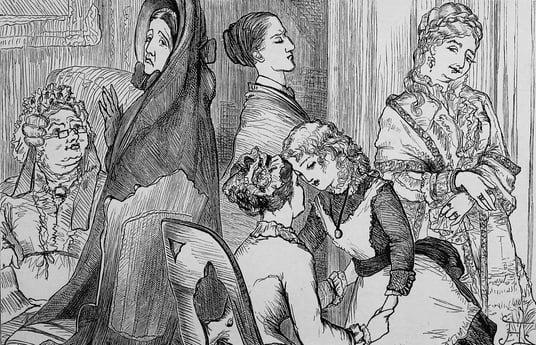 "Rose and her aunts" - first edition, frontispiece: Eight Cousins - Roberts Bros. Boston, 1875
Rose in Bloom
The sequel to Eight Cousins follows Rose as a young adult just returned from a long trip to Europe. After receiving her inheritance, Rose decides to focus her work and wealth on philanthropic work. Her aunts hope for Rose to marry one of her cousins in order to keep the money within the family. Charlie decides that he is the best match for Rose despite her dislike of his wild lifestyle. She encourages him to change and give up drinking. Despite not having a romantic interest in him, she agrees to see how their relationship develops and if it is possible for her to love him. Later in the novel, Mac expresses his love for Rose and attempts to win her affections before leaving for medical school. By the end of the novel, Rose is one of three happily engaged couples.
An Old Fashioned Girl
Split into two parts, this novel follows Polly Milton's relationship with the Shaw family. The first part of the novel, set when Polly is 14 years old, follows a country mouse meets city mouse style of plot. Polly, who lives in the country, visits her friend Fanny Shaw in the city for the first time. Initially overwhelmed by the opulent lifestyle of the Shaws and the teasing of Fanny's brother Tom, Polly's old fashioned kindness eventually wins over the family and helps them to become closer as a family. In the second part of the novel, Polly, now 20, moves to the city as a music teacher. She learns the Shaws are nearly bankrupt and helps them to learn money is not what is needed in life but rather a happy family. By the end of the book, the characters have transformed into happier versions of themselves and realized the importance of a loving home rather than wealth.
A Long Fatal Love Chase
In a departure from her usual tone of writing, Alcott's foray into Gothic fiction provides readers with a different, yet similar, appreciation of her work. The novel follows a Faustian plot with the main antagonist, Rosamond Vivian, wishing to leave the island she lives on with her grandfather, even willing to make a deal with the devil. A strange man, Phillip Tempest, provides Rosamond with an escape through marriage. While both enter the marriage for ulterior motives, both find themselves in love. After a year Rosamond discovers the truth Phillip has been hiding, leaving him and running away. For the next several years, she takes on new names and occupations as she moves to escape Phillip as he chases her around Europe.