Eoin Colfer, writer of various children's novels, is most acclaimed for his thrilling adventure series, Artemis Fowl. Beloved by readers and collectors alike, these books have become modern classics. But Colfer has also written a number of other notable children's books.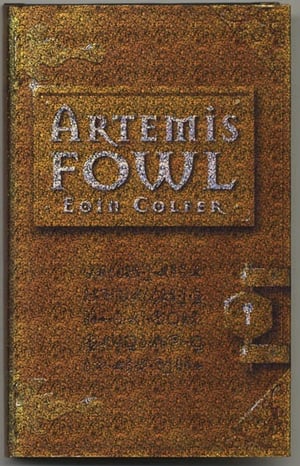 Born in Wexford, Ireland on May 14, 1965, Colfer was the second oldest of the five rowdy boys. Colfer's parents—both teachers— encouraged education and the arts in their children, so there was no surprise that Eoin discovered his passion for writing stories at the age of six. He continued on to study at Dublin University and followed in his mother and father's footsteps, pursuing a career teaching primary school.

Colfer left Ireland in 1991, spending time in the Middle East and Italy, which would inspire his first book, Benny and Omar (1998), the story of an extraordinary friendship between two young boys. The sequel, Benny and Babe was published the following year, in addition to children's books The Wish List, Going Potty, Ed's Funny Feet, and Ed's Bed.
While Colfer gathered much of his inspiration from the children he taught in school, he was able to completely express both his love for Irish culture and his appreciation of the adolescent mind in his bestselling children's novel, Artemis Fowl (2001). Here, Colfer tells the story of Artemis Fowl II, an intelligent and wealthy, criminal-minded teen who abducts a fairy named Holly Short for ransom.
This first book became incredibly popular, encouraging Colfer to describe more of Artemis Fowl's journeys in growing up through an eight-novel series. As many authors do, Colfer drew inspiration for Artemis in his younger brother, Donal—a child always getting into trouble and finding clever ways to get out of trouble. Colfer frequently incorporates his brothers into characters into stories—and has gleefully admitted that he enjoys killing them off.
Having children has influenced his writing as well. For example, early in the Fowl series, Colfer does not hesitate to use violence. However since his two sons were born, he has focused more attention on the chase, rather than on physical altercation.
Following his rise to fame through the Fowl series, Colfer was invited to write a sequel to Douglas Adams' Hitchhiker's Guide to the Galaxy, one of the most brilliant additions to science fiction to date. Beginning where Adams' fifth book ends, And Another Thing beautifully pays tribute and writes with the spirit of Douglas Adams. Colfer's adaptation was published on October 12, 2009, and many have said that his posthumous sequel is the truest to the original author that audiences have seen and it often comes highly recommended to Hitchhiker fans and general readers alike.