The word "meteor" didn't specifically refer to a fireball or shooting star until 1590, when it appears in that context in Shakespeare's Comedy of Errors. The term was originally popularized by Aristotle, who wrote a treatise on meteoro-logica, that is "discussion of high things." Aristotle wrote a treatise about the interplay between the four elements (earth, wind, water, and fire). He postulated that weather occurred because the sun's action caused vapors to rise up from the earth and sea. Aristotle addressed a wide variety of phenomena, from earthquakes to water evaporation.
A Seminal Work Reaches a Wider Audience
Aristotle's work was translated into Arabic around 800 by Antiochene scholar Yahya ibn al-Bitriq and subsequently circulated widely among Muslim scholars. The treatise wasn't translated into Latin until four centuries later, when Gerard of Cremona undertook the task. Thus Aristotle's theories of meteorology were introduced to the Western world. William of Moerbeke improved upon the work with a new translation. Based on the number of surviving manuscripts, it was a very popular volume, even earning commentary from illustrious scholars like Thomas Acquinas.
By the sixteenth century, Aristotle's ideas had a vertitable monopoly on academic thought. Cosimo I de Medici, who sponsored the Florentine Academy, essentially forbid the teaching of any ideas outside the Aristotelian school of philosophy. Dissenters firmly believed that Plato's philosophy was more accurate, but both schools also strived to reconcile their views with Christianity.
Conflict over the Philosophies of Master and Teacher
Enter Francesco de Vieri, also known as Verino secondo (the second Verino), after his grandfather of the same name. The first Verino was a respected humanist and early Platonist who had been educated in the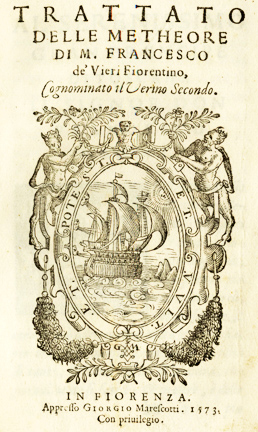 school of Jacopo da Diacceto. His grandson followed in his footsteps, studying logic and philosophy. In 1553, de Vieri began teaching at the University of Pisa. He first held a Chair in Logic, and then in Philosophy.
Though de Medici's statutes forbade deviation from the teachings of Aristotle, de Medici reluctantly granted de Vieri permission to teach Platonic thought. De Vieri undertook this task on his own time, teaching a course in Platonic thought during festival days. But other members of the faculty protested vociferously. De Vieri found himself in a feud with his colleague Girolamo Borri de Arezzo, whom de Vieri attacked in his"True Conclusions of Plato in Agreement with Christian Doctrines and Aristotle's Teachings" (Florence, 1589).
But the faculty found de Vieri's Platonist leanings downright disruptive, and borderline blasphemous. It didn't matter that de Vieri had delved into Aristotle's theories in his own Treatise on Meteors, or that he had written numerous works striving to reconcile Aristotelianism, Platonism, and Christianity. He believed that Platonism should not supplant Aristotelianism, but supplement it. Nevertheless, de Vieri was forced to stop offering his extra courses after only three years.
Today, Francesco de Vieri's work has faded into relative obscurity outside of academic circles. Nevertheless, his publications offer a unique insight into the intellectual milieu of the sixteenth century and the way in which scholars of the time grappled with intellectual uncertainty. In addition to his Treatise on Meteors, de Vieri also leaves behind his Treatise on Praise, Honor, Fame, and Glory (1577), Discourse on the Marvelous Works of Protolino of Amore (1587), and Discourse on the Subject, Number, use, and Dignity and on the Kind of Vestments of the Spirit (1568).