The simple act of reading a story with your child is a powerful one. But simple words on texts are not enough on their own; the most enduring children's stories pair wonderful stories with compelling illustrations. Thus, children's illustrators are just as important as children's authors.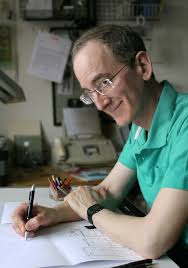 Paul O. Zelinsky, the American writer and illustrator best known for his illustrated edition of The Wheels on the Bus, is one such illustrator who has been capturing the imagination of children with his inventive and thought provoking pictures for over thirty years.
Zelinsky was born in suburban Chicago on February 14, 1953, the son of a mathematician and a medical illustrator. As a child he drew almost constantly. However, while at times he said he wanted to be an artist, he also said he wanted to be an astronomer, an architect, a taxidermist, and many other things.
It was not until he was at Yale College and took a course on the art and history of the picture book co-taught by famed illustrator and children's book author Maurice Sendak, that Zelinsky began to think a career as an artist could be a feasible endeavor.
Zelinsky went on to study painting in Rome and Philadelphia, where he earned a master's degree from the Tyler School of Art. Following his move to New York, Zelinsky began to work as an illustrator for periodical – The New York Times and Barrons among them – before eventually illustrating his first children's book,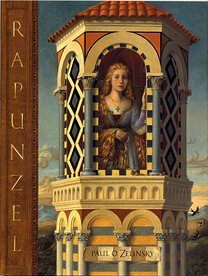 Avi's Emily Upham's Revenge, in 1978. Since then Zelinsky has continued to illustrate other's books as well as create his own original works. Many of his books have received critical acclaim. In 1998 he won the Caldecott Medal for his retelling of Rapunzel. This is in addition to numerous Caldecott honors for Hansel and Gretel (1985), Rumpelstiltskin (1987), and Swamp Angel (1995).
Zelinsky is unique as an artist both in general and as an author of children's books, in that he does not have a generally recognizable style. Perhaps this is in part because of his early artistic endeavors. While born and raised primarily in Chicago, his family did spend a portion of his childhood in Kyoto, Japan. There, he learned to draw stylish and elegant geisha ladies.
When Zelinsky returned to Chicago, his new home overlooked a construction site, so he began drawing tractors and steam shovels – being driven by beautiful geishas! Now Zelinsky adapts his style and the mediums used to the nature of the book he is illustrating. "I've said that I want to make pictures that speak in the same voice as the words."
Interested in collecting Caldecott winners like Zelinsky's Rapunzel? Check out our illustrated Caldecott Collector's Guide! A terrific tool for lovers of children's books, the guide includes a brief plot summary of each book and first edition identification points.