If there's one thing an author might fear losing, it's her eyesight. How can a writer continue to work having lost the faculty to see the sliding of the pen or the movement of letters across the screen? Reading, too, becomes a struggle, forcing the author to depend on books being read aloud or to learn a tactile writing system like Braille. For some legendary authors like James Joyce, loss of sight is a terrible obstacle, while for others it's a changing force, one that ultimately becomes integral to the work and creativity of the author.
Homer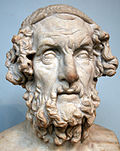 Not much is known about Homer. Even his very existence is debated. We don't know where he lived, and scholars have established a wide range of four centuries in which he was possibly born. Despite sparse and presumptive details about his life, scholars have not refrained from speculating that Homer was blind.
Oscar Wilde was keen on the issue. He wrote of the seminal poet:
"I have sometimes thought that the story of Homer's blindness might be really an artistic myth created in critical days, and serving to remind us not merely that the great poet is always a seer, seeing less with the eyes of the body than he does with the eyes of the soul, but he is a true singer also, building his song out of music, repeating each line over and over again till he has caught the secret of its melody, chaunting in darkness the words that are winged with light."
It is true that poetry was oral long before it was written. Homer's Iliad was not written down until centuries after it was composed, and the oldest manuscript of the work is Venetus A, which was written in the tenth century AD. For the early poet Homer, blindness would have cultivated a sharpened sensitivity to the musicality of words, as well as a trenchant understanding of how words are converted into images in the mind. While we are unlikely to know the truth about Homer, the myth that Western literature has its roots in the cognitive advantages of blindness prevails.
John Milton

Perhaps no canonical author is more famous for circumventing the obstacles and appropriating the virtues of blindness than John Milton. Living in the 17th century, he benefited neither from Homer's oral culture nor the availability of Braille (1824). The world of his literary vocation was thoroughly tethered to the flat, printed word of the book. When Milton decided to compose his masterpiece Paradise Lost, he composed verses of his poem and memorized them before dictating them to friends and assistants who transcribed his verses.
Milton lost his sight in the winter of 1651-52, threatening the career of an already accomplished man of letters. While he was yet to compose his magnum opus, he had lived a fully productive life. He had traveled Europe, meeting Galileo, among many intellectuals. He had written poetry (his first published poem, "On Shakespeare," was included in the Bard's second folio) and polemics like Areopagatica, which eloquently defended the freedoms of the press. He was immensely learned. Milton the polyglot was appointed Secretary for Foreign Tongue. In the role, he translated international documents to Latin and wrote propagandist tracts for the government.
As a writer, he was understandably upset by what he immediately confronted as a terrible impediment to his writing, and consequently, his ability to serve God. In understanding Milton's blindness, it is essential to remember his ardent Protestant devotion and the religiosity of his time. His rivals believed his blindness to be a punishment for his criticisms of the King. Milton himself was forced to reexamine his purpose on Earth - a process artistically rendered in his poem "On His Blindness." Ultimately, Milton refused to believe his blindness as punishment or even a considerable obstacle, and he began to transform this misfortune into a blessing.
Blindness was a superficial disability, but to Milton it was a divine benefit. In taking away his sight, he believed God was turning his preoccupations away from appearances and vanity, and instead, He was turning Milton's insight inward so that he may become the preeminent English epic poet.
James Joyce

Joyce struggled with eye pain and failure for the latter half of his life. He was legally blind and was fortunate that his periods of blindness were outnumbered by his sighted periods. Joyce's blindness was usually the result of surgeries performed to ameliorate his worsening eye pain. There is a small debate among Joyceans about the author's health. These arguments were reinvigorated last year by Harvard scholar Kevin Birmingham (The Most Dangerous Book) who claimed that his failing eyesight, as well as Joyce's decades long struggle with insomnia and fainting spells, arose due to complications from syphilis acquired in his youth.
Unlike Milton and many of the authors on this list, Joyce was largely uninterested in overcoming his failing sight, and he hated the idea of dictating his work. Paranoia about blindness and ocular injury makes numerous subtle appearances in his work. For instance, Ulysses features a blind youth whom Leopold Bloom helps across the street. This boy crosses paths again with the promenading characters of the novel, not quite able to move purposefully. The eyes are also depicted as a battleground for justice in A Portrait of the Artist as a Young Man, in which a warning has the child Stephen Daedalus anxious that eagles will gouge his eyes if he is sinful. This sense of loss of sight as a neutering of vitality came to matter a lot to Joyce. There was a space of about twenty years between the publication of Ulysses and Finnegans Wake. The break was due in part to the mental health issues of his daughter and his eye pain. He spent 17 years writing his final novel, often writing through a small sliver of his eyes and using crayons to write as boldly as possible.
Jorge Luis Borges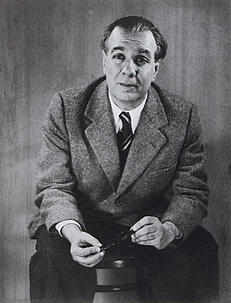 In allegiance with Milton and Joyce, Borges proves that blindness is not uncommon in the most visionary of authors. Borges was part of something of a flourishing of Latin American literature in the twentieth century.
Joyce's ocular failures were tied to other bodily weaknesses, such as excruciating ulcers and crippling headaches, and with the man's Irish stubbornness, we find Joyce substantially impeded by his blindness. Yet when we look at Homer, Milton, and yes, Borges, we find that Joyce's creative difficulty is something of an anomaly. Borges went blind from an inherited eye disorder. He was taken care of by his mother (who lived well into her 90s) for his unsighted life, and turned to lecturing and teaching when the physical act of writing became impossible.
In his essay "Blindness," Borges talks at length about his disability and the role of visual impairment in literature. In it, he admits one of his proudest achievements was being the director of the National Library of Argentina. He talked about the irony of being a man of letters and losing his sight. But, he later recalled that there were two other directors of the library who were blind, authors Paul Groussac and José Mármol. That two men in the library, just as voracious as he, were also blind was beyond coincidence, he insisted. Citing Homer, too, Borges agreed with Wilde that there is something harmonious between writing and blindness. He concluded by saying that, "Blindness has not been for me a total misfortune, it should not be seen in a pathetic way. It should be seen as a way of life: one of the styles of living."
Other Notable Blind Writers
Helen Keller
No story of the pedagogy of a disabled person became as famous as Helen Keller's, partly due its dramatization in works like The Miracle Worker. While deaf and blind since nineteen months old, she learned to read and write, producing her autobiography The Story of My Life. She was also an activist for such causes as female suffrage and worker's rights.
Wyndham Lewis
Lewis was a leading figure of Britain's modernist Vorticist movement and editor of the magazine BLAST. The inchoate Vorticism (a term coined by Ezra Pound) was essentially extinguished by the traumas of World War I, but Lewis remained a poet, dramatist, painter, and controversial voice until he became blind in the twilight of his life.
Galileo

It is schoolbook myth that the philosopher and astronomer Galileo went blind from looking at the sun through his telescope. He went blind in his seventies, likely of glaucoma or cataracts, after the apotheosis of his scientific crusades.
James Thurber
Thurber was shot by a toy gun when he was a young boy, resulting in the loss of his left eye and the impairment of the other. As a result, he spent his youth being creative indoors and set the foundation for his life as a cartoonist and fiction writer.