This week we celebrate the birth of Gerald Ford, the 38th President of the United States. Ford was born as Leslie Lynch King Jr. on July 14, 1913 in Omaha, Nebraska. While many presidents grew up under affluent circumstances, Ford succeeded through hard work—combined with very unusual circumstances. Indeed, he became the only President of the United States never elected to either the presidency or the vice presidency.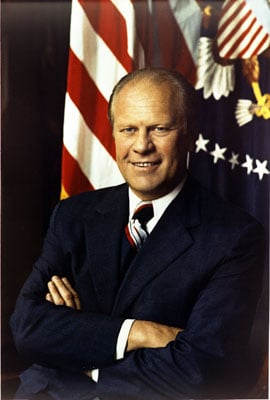 Ford's parents separated just two weeks after his birth. They divorced later that year. His mother moved with him to Grand Rapids, Michigan where she lived with her parents until 1916 when she married Gerald R. Ford, a Grand Rapids paint salesman. After the marriage, Ford's mother and stepfather began calling Ford "Gerald R. Ford, Jr." His name was legally changed in 1935. He grew up in a loving family with three half-brothers: Thomas, James, and Richard.
Ford excelled as a student; however, his true prowess was on the football field. He was part of the "All City" and "All State" teams in high school. Later, at the University of Michigan, he was voted most valuable player on a team that won two National Championships. After earning a bachelor's degree in Economics, he was recruited by the Detroit Lions and Green Bay Packers. Despite his success on the football field, however, he had other aspirations. He accepted a position as a Boxing Coach and Assistant Football Coach at Yale University in order to pursue a law degree. In 1941, he graduated from Yale University with his L.L.B in the top 25% of his class.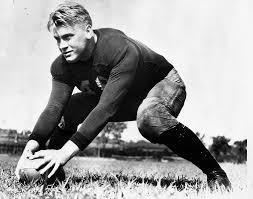 After law school, he returned to Grand Rapids intending to start a law firm with his friend, Philip Buchen. Yet World War II intervened and Ford joined the U.S. Naval Reserve instead where he eventually became the athletic director and gunnery division officer on the U.S.S. Monterey. The U.S.S. Monterey took part in most of the major operations in the South Pacific including Truk, Saipan, and the Philippines. In 1944, a typhoon damaged the ship so severely that Ford was sent ashore to work for the remainder of the war.
After the conclusion of WWII, Ford lost his long-held isolationist leanings and instead adopted an internationalist outlook. In 1948, Ford used this platform to challenge incumbent Republican congressman, Bartel Jonkman, and won by a wide margin.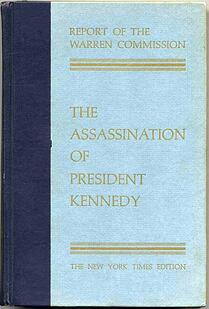 Ford served in the House of Representatives from January 3, 1949 to December 6, 1973. He won reelection 12 times with margins over 60%. During his tenure, he gained leadership experience on the Appropriations Committee and as Minority Leader.
In 1963, President Johnson appointed Ford to the Warren Commission to investigate the assassination of President Kennedy. In 1965, Ford was co-author of The Report of the Warren Commission on the Assassination of President Kennedy.
Ford was a longtime friend and supporter of Richard Nixon, and supported him during both his 1968 and 1972 elections. Following the resignation of Nixon's Vice President Spiro Agnew, Nixon chose Ford as Agnew's replacement. On December 6, 1973, Gerald Ford was sworn in as Vice President of the United States. He served as Vice President for nine months, until President Nixon succumbed to public opinion and resigned the office.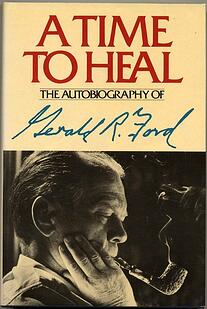 On August 9, 1974, Ford became the 38th President of the United States. Ford lost reelection, in part because of his choice to pardon Nixon for his involvement with Watergate. Following his years in office, Ford retired with his wife to California. There he wrote A Time to Heal: The Autobiography of Gerald R. Ford and Humor and the Presidency. Both books have become valuable assets to rare book collectors.

President Ford passed away in his home on December 26, 2006.