Stories are to be found everywhere on this narrative-inclined Christmas holiday—in movies, songs, even in its decorations—but nothing endures quite like the stories that were read to us by family. As we age, it becomes our job to pass on that holiday cheer to the younger spirits in our lives. There is a rich selection of children's literature to choose from, including classics like Eloise at Christmastime, and modern gems like Angela and the Baby Jesus. Here, we explore the many books available for parents and family members wishing to brighten a young child's holiday.
Christmas Stories
Angela and the Baby Jesus by Frank McCourt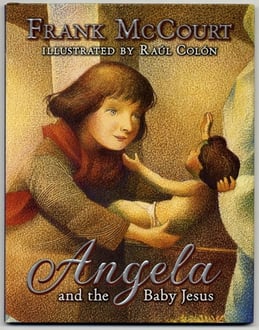 From the author of Angela's Ashes, this book is set in Ireland and follows a six year old girl who becomes drawn to the Jesus figurine in her church's nativity. Baby Jesus, the girl insists, must be cold outside, and so she plans to steal it to protect it from the harsh winter. Frank McCourt's skilled rendering of a child's perspective, as well as lovely illustrations, make this book perfect for any child's Christmas.
Santa Calls by William Joyce
Not all Christmas books are about cozying up at home. Santa Calls takes place in 1908, when friends Art and Spaulding are called to the North Pole by a personal invitation from Mr. Claus himself. They are led on a swashbuckling adventure, and it's a Christmas journey to rival The Polar Express.
When Santa Fell to Earth by Cornelia Funke
Funke's 2004 tale casts Jeremiah Goblynch as its Grinch and Scrooge-like villain who wants to outlaw the magical ways of Christmas—with all its reindeer, elves, and splendor—and begin monetizing it. When Santa's sleigh crashes upon the town, who else would save the holiday but a pair of bright, wholehearted children?
The Holiday Spirit
Emeril's There's a Chef in My Family by Emeril Lagasse
In Emeril's accessible cookbook, two great parts of the holiday season happily dovetail: family and good food. With fun, easy to comprehend books like these, teaching your child to cook has never been more fun.
Owl Moon By Jane Yolen and Arthur Shoenherr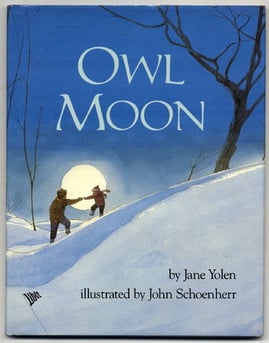 Winner of the 1988 Caldecott Medal, this wondrously illustrated book brings to life a New England winter on its pages. In its short length, it presents a touching story about nature, an owl, and the incredible bond between father and daughter.
Always Room for One More by Sorche Nic Leodhas
The author retells an old folk tale, imbuing it with a Scottish musicality. Always Room for One More tells the story of a man who never turns down a weary traveler and whose hospitality gets way out of hand. Soon, his guests grow to such a large number that his house is damaged, but luckily his guests have the good sense to band together to fix the mess they've made.
Peeny Butter Fudge by Toni and Slade Morrison
Nobel Prize winner Toni Morrison collaborates with her son Slade to create a book, introducing a grandmother whose tales enrapture her children, as if they come to life. In telling a tale about family, good cooking, and the transformative, indelible power of storytelling, the pair create a book that's perfect for Christmas.
Great Illustrators
Hilary Knight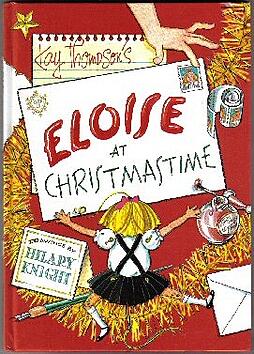 Hilary Knight is most famous as the illustrator of Eloise, a character who celebrated her sixtieth anniversary this year. It's fitting that one of Eloise's original collaborations has its cheery protagonist in the cheeriest of holidays, and Eloise at Christmastime has warmed generations of hearts since it was written. But Knight has other brilliantly illustrated Christmas books, like The Twelve Days of Christmas and Christmas Stocking Story, that any child will love.
Charles van Sandwyk
We've never been able to hide our love for Charles van Sandwyk. His illustrations don't disappoint, and they captivate his audience of all ages. His scenes of animals, cozied up by fires and in hovels beneath tree stumps, create a gorgeous domestic holiday atmosphere. We recommend especially his books Animal Wisdom and Mr. Rabbit's Symphony of Nature.
Berta and Elmer Hader
This husband and wife team made A Lifetime of Art, a book replete with gorgeous illustrations from a lifelong career. The pair won the Caldecott Medal in 1949 for their winter wonderland of The Big Snow, and illustrated many other stories for children, including Mother Goose. Elmer Hader's work has become iconic through the covers of John Steinbeck, whose Grapes of Wrath and East of Eden he illustrated.
At Books Tell You Why, we love Christmas. In addition to this list, for more gift ideas feel free to browse our dedicated selection of editions of The Night Before Christmas, as well as our extensive Christmas and Children's book sections.