December 5th marks the birthday of Joan Didion, the author and mother of four who created a style all her own by rejecting conventional journalism. Didion once said, "Life changes in the instant. The ordinary instant," and Didion's works have certainly changed the lives of many a reader.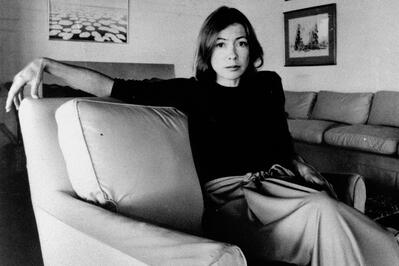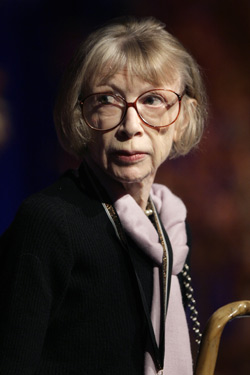 Many readers discover Didion through her collection of magazine pieces, collected as The White Album--and they may need a dictionary handy to fully appreciate Didion's sophisticated vocabulary, which is complemented by her calculated sentence structure. In The White Album, it's easy to appreciate Didion's approach to journalism as an observer, and to empathize with her belief that the media tell us how to live. Didion rejected self-effacing behavior and indulged her predilection for cynicism and dread, always taking time to "cleanse her palate," by keeping rituals to "break from writing and to remove herself from the pages."
Another literary collection by Didion, Slouching Towards Bethlehem, illustrates that Didion's writing habit began early. She notes in "On Keeping A Notebook", that it is about "how it felt to me: that is getting closer to the truth about a notebook." It seems her penchant for opined writing began at a young age when she began journaling. In an interview, she said, "It was as a child. I was four or five, and my mother gave me a big black tablet, because I kept complaining that I was bored. She said, 'Then write something. Then you can read it.' In fact, I had just learned to read, so this was a thrilling kind of moment. The idea that I could write something–and then read it!"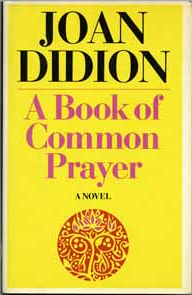 Influenced heavily by Ernest Hemingway, who taught Didion the importance of the way sentences work within a text, and Henry James who wrote "perfect, indirect, complicated sentences," Didion's writing flows the way a stream of water drips down the side of a mountain, leaving erosion and crevasses where it has worn a permanence into the reader. Critics often note that her novels and essays explore cultural chaos and maintain a theme of individual and social fragmentation. Few readers escape the impact of Didion's sincere prose, feeling the underlying presence of anxiety and dread. In "On Morality", she writes that when we deceive ourselves into thinking that "it is a moral imperative" to want or need something that we descend into a hysteria where "we join the fashionable madmen...and then is when we are in bad trouble. And I suspect we already are."
Didion felt strongly about keeping in touch with one's self, noting in On Keeping a Notebook, " I think we are well advised to keep on nodding terms with the people we used to be, whether we find them attractive company or not...We forget all too soon the things we thought we could never forget."
Here's a look at some of Didion's memorable interviews over the years. What's your favorite of her works? Leave your thoughts below in the "Comments" section.