June 3 is a great opportunity to celebrate Larry McMurtry and to tell a story about our visit to his hometown of Archer City late last year. Born on this day in 1936,

McMurtry

is the author of thirty-two novels and just as many screenplays, in addition to a handful of memoirs and essay collections. McMurtry is most known for his novel

Lonesome Dove,

which won the 1986 Pulitzer Prize for Fiction and was adapted into a television series that won seven Emmy Awards. Many of his novels

—

including

The Evening Star, The Last Picture Show, Texasville, Terms of Endearment,

and

Horseman, Pass By

—

were adapted into films that won a total of ten Academy Awards. Notably, McMurtry also co-wrote the screenplay for the Oscar-winning

Brokeback Mountain

.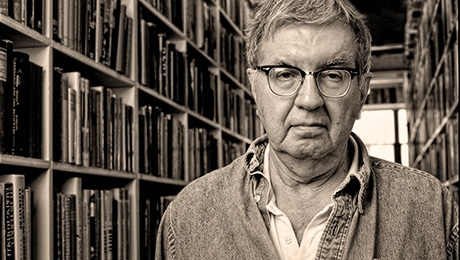 From Ranch to Bookstore
Growing up in a family of cattlemen on a ranch just outside Archer City, McMurtry's love for stories began early and was something special that he shared with his family. Every night, McMurtry's family would gather outside on the porch and share stories. Yet, it wasn't until the age of six that McMurtry began to first read books. His love of literature only continued from there. At the age of eighteen, McMurtry left Archer City to study for his BA at the University of North Texas, and he then earned his MA from Rice University in 1960. That same year, McMurtry went to Stanford University where he was the Wallace Stegner Fellow. There, he studied fiction under Wallace Stegner with numerous other novelists including Gordon Lish, Peter S. Beagle, Robert Stone, and Ken Kesey.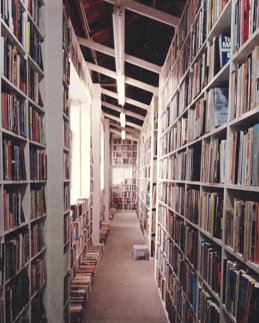 It was during his time at Stanford that McMurtry also became a rare-book scout, allowing him to further his love of books and become even more immersed in the world of bookselling. This is where McMurtry experienced a shift from writing to bookselling. McMurtry explained, "Sometime in the 1970s, I began to view myself as essentially a bookseller—or maybe just a book scout. The hunt for books was what absorbed me most. Writing was my vocation, but I had written a lot, and it was no longer exactly a passion."
McMurtry—not only a lover of books, a novelist, and a screenwriter—was also the man behind the antiquarian bookshop Booked Up. He moved to Washington D.C. in 1970 and opened up his first bookstore in Georgetown with a longtime friend and colleague, Marcia Carter. In 1988, McMurtry returned to his hometown, opening another Booked Up right in Archer City.
The Archer City bookstore was, at first, named Blue Pig and run by Sue Deen, one of McMurtry's sisters. Needing more space, McMurtry bought many buildings along Main Street in the small town and changed the name to Booked Up, the same name of his previous stores. McMurtry filled these new spaces with books, more than 400,000 of them. McMurtry acquired all of the books over four decades and by obtaining the stock of more than twenty bookstores. Having begun in Washington D.C. with other stores in Houston, Dallas, and Phoenix, the Booked Up stores were eventually consolidated to their current location of McMurtry's hometown. To this day, Booked Up still sits on Main Street in Archer City and almost 200,000 books can be browsed on its shelves.
Our Archer City Visit
During a trip to Dallas last October, a day-trip to see Archer City—about a two-hour drive northwest of Dallas—was on the agenda. We arrived at Booked Up and browsed the never-ending shelves for hours. We could have come back the next day and the next and still not have seen everything. The book hunting was great: fly-fishing and early dust-jacket books, Rudyard Kipling, Wilhelm Busch, the list goes on. And it was an unexpected treat to meet McMurtry himself. While we were on McMurtry's front porch, we shared stories of book collecting, book selling, and, naturally, Texas cuisine.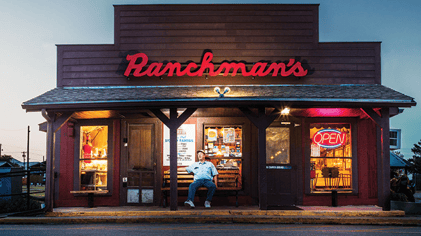 After visiting Booked Up, we paid a visit to McMurtry's second favorite place, Ranchman's Cafe in the neighboring town of Ponder: "My favorite place is my wonderful Prairie-style mansion in Archer City. It contains my 28,000-volume library of books, a source of solace and tranquility whenever I'm among them," McMurtry said. "My second-favorite place is the Ranchman's cafe, in the town of Ponder, about ten miles west of Denton. I've been eating at the Ranchman's for, maybe, 55 years. I've lately learned that Ponder was the first place my forebears settled when they moved from Missouri, in the 1880's. My grandfather broke horses there for ten years. There was, alas, no Ranchman's back then."
While we'd definitely say that the book hunting was better than the chicken fried steak, the entire adventure was truly one for the books.