Lyndon B. Johnson, 36th President of the United States, would be 110 years old today. Few persons in positions of executive power have experienced such an unthinkable, history-making event as LBJ did. Of course, we're talking about the assassination of President John F. Kennedy and what followed. Another example occurred on September 11, 2001, when then President George W. Bush faced the news of a domestic terrorist attack. How a president—or soon-to-be president, in the case of Lyndon B. Johnson—handles himself in the wake of such a moment, for better or worse, tends to define his legacy.
So, in honor of LBJ's birthday, let's examine his presidency and beyond.
Warren Commission
Lyndon B. Johnson took the oath of office on Air Force One, mere hours after the assassination of President Kennedy. The well-known photograph of LBJ's inauguration shows Mrs. Kennedy still in her blood-stained clothes from the motorcade. Johnson hurried to officially be inaugurated due in large part to the already circulating rumors of a conspiracy. Many accused LBJ of being power-hungry, using his dealings in the wake of Kennedy's assassination as evidence—not only did he assume office in record time, but he also demanded JFK's body be moved immediately to Washington.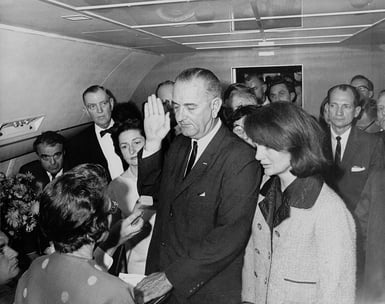 One week later, LBJ issued an executive order to investigate the circumstances surrounding JKF's assassination. The findings of the President's Commission on the Assassination of President Kennedy, or as it is more commonly known, the Warren Commission, were presented just over 10 months later in an 888 page document. The Commission concluded that Lee Harvey Oswald shot and killed President Kennedy, and he acted alone. There was always skepticism, though, both from within the Commission itself and from the public. We've all heard the theories. And as the JFK Review Board notes in its report, President Johnson expressed, "if sometimes off the record, some level of skepticism about the Commission's basic findings."
Whether the Warren Commission was more helpful or hurtful to an understanding of the assassination of President Kennedy is still up for debate. Tellingly, when the Apollo 1 crew was all killed during a training mission, President Johnson did not call for a commission like the Warren Commission, instead choosing to task NASA with completing its own review of the events.
Great Society
Following President Kennedy's assassination, LBJ was in a tough spot. The American public was shocked and devastated by JFK's death, and many sympathized with the newly elected President Johnson—a man thrust into power unexpectedly. LBJ used the public's sympathy and made a strong push to pass much of the legislation Kennedy had proposed, namely that pertaining to Civil Rights and tax cuts.
President Johnson took his own initiatives even further. In 1964, he introduced his idea for a "Great Society." The History Channel provides a thorough description of LBJ's Great Society plans.
This was a multi-part plan that included the war on poverty, implementing Medicare and Medicaid, education reform and the creation of the Headstart program, urban revitalization, endowments for the arts and humanities, and a push for environmental conservation. As part of his Great Society, LBJ:
Created work training programs and provided jobs for disadvantaged citizens
Made Medicare and Medicaid law
Passed the Elementary and Secondary Education Act, which guaranteed funding at public schools with primarily low-income students
Passed the Housing and Urban Development Act which allocated funds for cities who increased their housing standards and made it easier for low-wage earners to get a mortgage
Signed into law the National Foundation on the Arts and Humanities Act, which created the National Endowments for the Humanities and Arts.
Set water quality standards
Created the Consumer Product Safety Commission and the Child Safety Act
Stopped enforcing quotas on immigration based on nationalities
Many of the Great Society initiatives were aimed at helping the poor. Indeed, many of the programs and laws put into place tie back to President Johnson's War on Poverty.
While LBJ obviously was successful in pushing through his legislation—looking at the list above, it's clear that over 50 years later, much of this agenda is still in place in some shape or form—some Americans argued that his laws were invasive and that they thrust the government directly into the center of the lives of the American people.
Vietnam War involvement
While the conflict in Vietnam grew, President Johnson made the decision to increase U.S. involvement. As a result, as the History Channel states, much of the funds that would have gone toward the War on Poverty ended up being allocated to the War in Vietnam.
Indeed, while LBJ's Great Society reforms were sweeping and arguably the most significant work of his presidency, he is often remembered more for the role he played in sending American troops to fight the Vietnam War. The increase in monthly draft-ees, the muddling of the facts for the public, and the way Americans felt like they had the wool pulled over their eyes about what was going on, coupled with the skyrocketing death toll as the war progressed, did nothing to bolster the President's approval in the eyes of the public. As a result, many remember President Johnson in a negative light; the protest chant, "Hey, hey, LBJ, how many kids did you kill today?" comes readily to mind.
Lyndon's Literary Legacy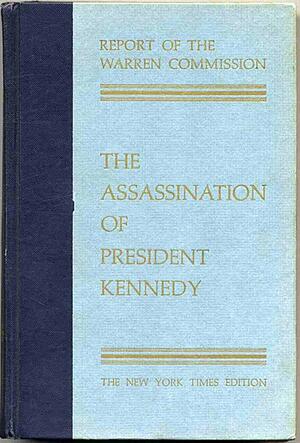 Are you interested in learning more about Lyndon B. Johnson or adding to a Presidential Collection? Several titles are important to keep in mind. First, owning a copy of The Warren Commission is a necessity for any LBJ or presidential collector. Look for an authoritative edition that includes all the text and every one of the vitally important Commission Exhibits necessary to an understanding of the Report.
Likewise, collectors may also be interested in The Witnesses which is a the New York Times collection of highlights of hearings before the Warren Commission on the assassination of President Kennedy, including First Lady Jackie Kenney's statement: "All I remember is seeing my husband, he had this sort of quizzical look on his face, and his hand was up, it must have been his left hand ... and then he ... put his hand to his forehead and fell in my lap.".
The Professional by William S. White is an interesting LBJ biography. White and Johnson—both Texans—met in 1933 and became close friends and confidants. As a result, White's biography paints LBJ is a pretty positive light. First published in 1964, this was undoubtedly an intentionally positive work to aid in President Johnson's reelection efforts.
The most well-known and widely-regarded Johnson biography is The Years of Lyndon Johnson by American author Robert Caro. Caro has published four volumes: The Path to Power (1982), Means of Ascent (1990), Master of the Senate (2002), and The Passage of Power (2012). As of 2017, the fifth installment is said to be in the works, focusing on Johnson's presidency in 1964-1965, his legislation, and the Vietnam War. Any collector of Johnson would do well to add these award-winning books to his or her library.
LBJ was a man who took office under unimaginable circumstances, and while—like any president—his presidency's success or failure is ambiguous, we do well to learn from him, his efforts, and his life. Happy birthday, President Johnson!