Harold Pinter (October 10, 1930 - December 24, 2008) was a British playwright, screenwriter, actor, director, poet, and political activist. He won the 2005 Nobel Prize in Literature for being a writer "who in his plays uncovers the precipice under everyday prattle and forces entry into oppression's closed rooms."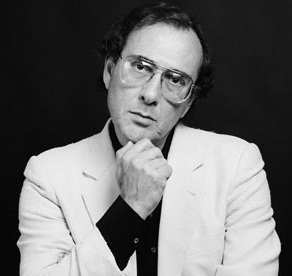 Pinter is known for writing dramatic pauses into his dialogue. Pinter's scripts are filled with the words "dot," "pause," or "silence," signifying the lengths of required breaks in speech. The breaks are so prevalent in his writings that the term "Pinteresque" - in reference to a pause or silence, usually with an underlying meaning - has become a frequently used term in British vernacular.
The result of these pauses is a jilted style that leaves audiences feeling tense and uncertain about the scenes unfolding before them. Pinter's works have a certain murky quality to them. One wonders if anything exists as it is portrayed; a sinister twist seems inevitable.
One critic described Pinter's style as a "comedy of menace." The phrase stuck, for in Pinter's works, we are treated to both a distinct type of dark humor and bouts of brutality. Whether one abhors or appreciates his style, it is difficult to find a match for Pinter's artistic contribution as a dramatist and writer in the twentieth century.
One of Pinter's most substantial undertakings was creating the 1972 adaptation of Marcel Proust's seven volume novel À la recherche du temps perdu. Known in English as both In Search of Lost Time and Remembrance of Things Past, Proust's novel is considered one of the most significant works of French literature for both its length - nearly 4,000 pages - and its intimate depiction of a man and his memories.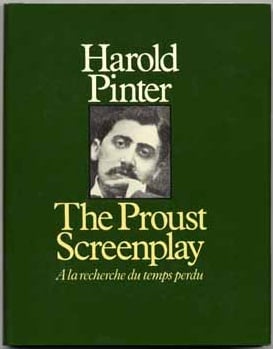 Pinter's adaptation, titled The Proust Screenplay, is a fascinating glimpse at one iconic writer's take on another iconic writer's tale of memories. And a "glimpse" is really all it can be.
Pinter voiced his concern over the magnitude of the process to The Los Angeles Times saying, "I was bowled over. This is the greatest novel of the 20th century. How could I carve a screenplay out of 4,000 interdependent pages with their own unity and their own themes?" And in an interview with The Voice, Pinter said of Proust, "You've got to read every damn word because it is so precise and so considered and so felt."
Thus, what Pinter gives us in his interpretation of Proust is a fascinating mesh of the two writer's styles. Where Proust takes pains to tell and re-tell, relying on repetition and detail to make his points known, Pinter leaves much more for his audience to interpret. Because Pinter is conveying Proust's story, certain involuntary memories so finely articulated in Proust's text, such as Marcel's desire for a kiss goodnight from his mother, are presented in a stripped down, but still powerful way. Other aspects of the novel, like the dissertation pertaining to madeleines, are left out completely. In effect, Pinter lets us see what aspects of À la recherche du temps perdu most resonated with him.
To fill in the gaps left from adapting text to screen, Pinter wrote into The Proust Screenplay descriptions of images as he imagined them appearing in film. He did it so well that one reviewer, Stanley Kauffmann, claimed "that this screenplay far surpasses anything conveyed by the term "adaptation" and becomes a recomposition in another art."
Unfortunately, Pinter's images and his reimagining of Proust's text were never brought to life on screen; The Proust Screenplay was never filmed. Still, a reading of Pinter's Proust is rewarding in and of itself for the light it sheds on Pinter's creative process and for the look it gives us into the mind of not one but two of the twentieth century's great writers.