Saki was the pseudonym of short story writer Hector Hugh Munro. He adopted the name in 1900, and it's believed to have been taken from a character from the works of the Persian poet, Omar Khayyam. Most famous for his short stories, Saki also wrote novels and many articles of journalism. He remains an important figure in the tradition of modern English writers, although his politics and ideas may seem somewhat distant to us today.
Munro's Upbringing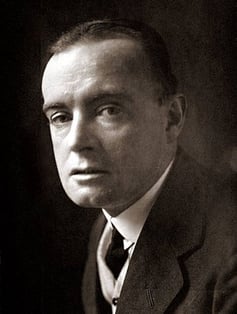 Like his influence, Rudyard Kipling, Hector Hugh Munro was an Englishman by blood, born under the British Raj, in what is now modern day Myanmar. His father was a police chief in Burma. Munro never knew him well. He knew his mother even less; she died shortly after being traumatized by the charging of a cow. Munro was principally raised by two aunts, and although he wanted to follow in his father's footsteps as policeman in the colonies, he had to leave the force after contracting malaria. It was during his recovery period that he decided to become a writer.
Munro adopted his pseudonym when writing for the Westminster Gazette. He later became a correspondent for newspapers, and went on assignment to places like Warsaw, St. Petersburg, and Paris. One can see the author's own Tory affiliations and opinions poke through reports of foreign governments. His stories and writings reflect a similar inclination. Munro was certainly wary of the growing Jewish presence in England, and he ridiculed the mounting women's suffrage movement. Still, however chauvinistic his politics were, Munro knew something about marginalization. As a homosexual in Edwardian England, in which one risked being tried for gross indecency, Munro chose to be secretive to the point of repression for his entire life.
Munro's Writing
The center of Munro's oeuvre is his short stories. They are not particularly popular in America, but the English continue to read them, although Munro is frequently upstaged by authors of his time, such as Wilde, Kipling, and Wodehouse. For the most part, his stories stand the test of time. As Christopher Hitchens wrote, Munro "is among those few writers, inspirational when read at an early age, who definitely retain their magic when revisited decades later."
At his best, Munro is considerably funny. His book The Westminster Alice retells Lewis Carroll's famous story, casting Alice not in Wonderland but in Parliament, a bewildered girl forced to make sense of all the madness. One story, "Toys of Peace," is about a pair of parents who are trying to direct their children away from referencing militaristic and violent acts in their play. A fort becomes a municipal building, guns become ploughs and tools of industry. No matter the parents' valiant effort, the children win out in the end, and end up playing their violent charades.
Munro's Military Experience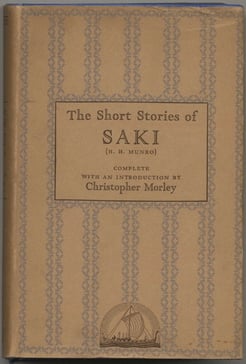 Munro also wrote a strange novel, in the style of what is now called "invasion literature," that was popular in England from the turn of the century until the fiction became fact. Munro's When William Came (William being Kaiser Wilhelm II) tells the tale of a successful German takeover of Britain. In this book, Munro's jingoism combines with his contempt for Edwardian hypocrisy and cowardice, and reveals a macabre hope that a little war might be good for a country that's grown weak-willed and vulnerable. Just a year after When William Came was published, his dubious wish was granted.
When World War I broke out, the 43 year old Munro stopped at nothing to serve in combat. He was rejected at first on account of his age, but he eventually enlisted as a trooper. He continuously fought in combat, despite battling resurgences of malaria. The writer was killed in 1916 in the Battle of Ancre, by a German sniper's bullet while he found shelter in a crater made by artillery fire. His last words, it is said, were "Put that bloody cigarette out!" a not uncommon plea in the trenches, as the lit cigarette end gave away one's position. Munro was only 45.
The satirist cannot see all faults. Munro, as a great critic of Edwardian complacency, might have been helped by a critic of the very nationalism that led him—and an entire continent—toward unimaginable catastrophe.