Hendrik Willem van Loon had a distinct ability to take dry, historical facts, and make them come alive for his young readers. He published over 40 works in his lifetime, most of it nonfiction targeted at children and young adults. He also illustrated many of his works himself. Van Loon was awarded the first John Newbery Medal in 1922.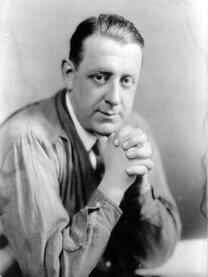 Van Loon was born on January 14th, 1882 in Rotterdam, the Netherlands. Although his parents were religious Lutherans, he claimed to be "completely indifferent to the claims of any church." He was accepted to Cornell University and moved to the United States at the age of 20 to begin his studies there.
Like many authors before him, van Loon began his writing career as a journalist. Immediately upon graduation, he was relocated to Russia where he worked as a new correspondent for the Associated Press, reporting on the Russian Revolution.
A year later, van Loon married Eliza Ingersoll Bowditch. The couple had two sons and moved to Germany, where van Loon enrolled in the University of Munich and earned his Ph.D. His thesis became his first book, titled The Fall of the Dutch Republic.
While van Loon's professional life was on a steady incline, his personal life had become turbulent. He went through a string of four divorces, before finally reuniting with his second wife, Eliza Helen Crisswell. Their relationship held together until van Loon passed away in 1944, and she inherited his entire estate, which included two previously unpublished works. An autobiography was also found, which was later released under the title Report to Saint Peter.
As van Loon's career progressed, he began to write for a younger audience. At first, his books focused on Dutch history, but as his popularity grew, he also expanded his subject matter to other cultures. Although the books were nonfiction, van Loon tended to use the word "story" in his titles and book descriptions. He provided information in the manner of a storyteller, by both educating and entertaining his readers.
The peak of van Loon's career came in 1922, when he received the first Newbery Medal, a distinguished award presented annually by the American Library Association. It was originally the idea of Frederick Melcher, editor of Publishers Weekly. In the beginning of the century, not many authors tailored their works for young readers. Melcher wanted to award and provide incentives for children's books of high quality and imagination, and the first recipient was Van Loon's The Story of Mankind, which provided a kid-friendly overview of western civilization from primitive man to modern times.
Originally published by Boni & Liveright, The Story of Mankind has become a classic in children's literature. It was published with new text by Boni and Liveright in 1926, and by Pocket Books in 1939. Gerard Willem van Loon wrote new text for a Liveright edition in 1951. Edwin C Broome updated the text for the 1967 Liveright edition, as did an uncredited author in 1972. The 1984 Liveright edition includes new text from John Merriman and new illustrations by Adam Simon, while the 1999 Liveright edition, also with new text by John Merriman, is illustrated by Dirk van Loon.