Beloved American poet, naturalist, and transcendentalist, Henry David Thoreau was born July 12, 1817. His philosophy on living naturally paved the way for modern environmentalist ideals. While Thoreau is known for writing Walden and embracing life in the woods, many are less familiar with his beliefs on civil disobedience and abolition.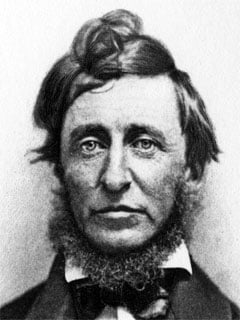 Born and raised in Concord, Massachusetts, Thoreau embraced education and attended Harvard, graduating in 1837. Despite being a graduate from one of the nation's most prestigious universities, he was not enthusiastic about working in the professions encouraged by Harvard at the time. After working as a teacher for less than a month, he abandoned his job and resorted to working in his father's pencil factory. He continued to work in the factory until 1838, when he decided to open a school with his brother, John. The school remained open until John grew ill in 1842. Thoreau returned to his father's pencil factory until his friend and mentor, Ralph Waldo Emerson, offered him a job as a live-in repairman. By this time, Emerson was a renown philosopher and poet, and introduced Thoreau to fellow Transcendentalists such as Bronson Alcott (father of Louisa May Alcott), Nathaniel Hawthorne, and Margaret Fuller. They encouraged Thoreau to write and subsequently his first writings were published in The Dial, a magazine specializing in Transcendentalist writings.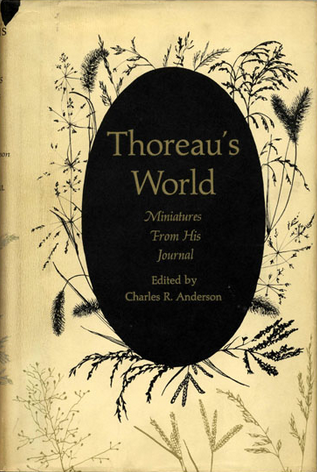 By 1845, Thoreau had began taking his writing more seriously. He needed solitude, however, to delve more fully into philosophy and literature. He was given permission to build a home on an area of property Emerson owned. There, Thoreau built his home on Walden Pond—the inspiration for his first book—A Week on the Concord and Merrimack Rivers (1849). The novel was based on a boating trip Thoreau and his brother had taken in 1839, and was written in his brother's honor.
Thoreau continued to live on Emerson's property until 1847, when he was asked to move back into the Emerson home to assist in family matters while Emerson traveled to Europe. After leaving Walden Pond, Thoreau published his second and most popular book, Walden, also known as Life in the Woods (1854). The book describes the two years Thoreau spent at Walden Pond, embracing nature and the simplicity of his surroundings. He also includes a brief story, describing a night he spent in jail for refusing to pay the poll tax.
Although Thoreau is mostly recognized for his environmental endeavors, in his later years he grew politically active. His firm beliefs on abolition should not be surprising, given his involvement with the Transcendentalist movement. He wrote an essay, Slavery in Massachusetts (1854), based on a speech he gave July 4, 1854. The essay condemns the North for its unwillingness to rise against Southern ideals and provide freedom for all individuals. Controversially, Thoreau supported Captain John Brown, a radical slavery abolitionist who sought freedom for slaves at any cost. Thoreau was also a conductor on the Underground Railroad, at significant personal risk.
Thoreau passed away on May 6, 1862 at the age of 44, due to complications of tuberculosis. Despite his early death, his writings are continually read and held in the highest regard. His forward thinking may not have been universally appreciated by his contemporaries, but today his ideals are embraced and shared across the world.