Great American poet Henry Wadsworth Longfellow was born on February 27, 1807 in Portland, Maine. He was the second child of Stephen and Zilpah Longfellow, and six more children would follow. Longfellow was always a creative young boy, enthusiastic about learning. He was enrolled at the private Portland Academy at age five. Just like other children his age, his studies primarily focused on literature and language; however, he enjoyed this so much that he engaged in intricate writing projects with his friends outside of school as well.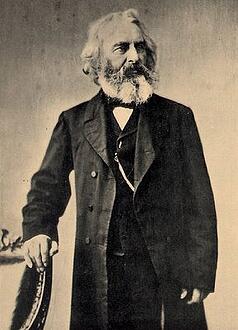 Although he was just a child when the War of 1812 began, Longfellow was still very intuitive about what was going around him, and this affected him and his writing for the rest of his life. Longfellow specifically recalls a naval battle that took place off the coast of Maine in 1813, in which the captains of both ships were buried down the block from his house in Portland's Eastern Cemetery.
When Longfellow was thirteen years old, his first poem, "The Battle of Lovell's Pond," was published in the Portland Gazette. The following year he was accepted at Bowdoin College—Maine's first college—but he and his older brother remained in Portland because Henry was so young. While in college, Longfellow's love for writing grew, as he published over thirty minor poems that year. His father wanted him to pursue law just as he did, but when he saw his that his son would not be swayed, he secured Henry a job at the college as a professor of European languages. Longfellow graduated in 1825—the same graduating class as classic American author Nathaniel Hawthorne, who published The Scarlet Letter in 1850.
Before Longfellow started his teaching career, he set off on a three-year trip throughout Europe, meant to enrich his knowledge of language and classic literature. His trip motivated his first novel, Outre Mer: A Pilgrimage Beyond the Sea in which he used literary elements from other writers to create a deeper connection with himself and his audience through his work.
He returned to the United States and took his position at Bowdoin teaching French, Spanish, and Italian. He continued to write critical essays and textbooks while translating other works, which were published on regularly. In 1829, Longfellow married Mary Potter, a woman from his hometown whom he had known since childhood. They were not happy in the area, and he quickly grew bored of his job.
Longfellow was given the opportunity to work at Harvard College as the Smith Professorship of Modern Language, and he took the position. He was asked to spend a year abroad prior to teaching, gathering more knowledge on Northern Germanic languages such as Danish, Swedish, Finnish, and Icelandic. In 1835, he left for Europe with his wife and two friends. In October of 1835, Mary had a miscarriage six months into her pregnancy. She had several complications after the fact, and passed away weeks later. Longfellow was devastated about his wife's death and became severely depressed and suicidal. This event inspired later poems including "Footsteps of Angels" and "Mezzo Cammin," which would not be published until several years later.

Longfellow continued traveling in an attempt to provide some normality to keep him going. With time, he was able to heal properly and accept fate. It certainly helped that while in the Swiss Alps, Longfellow became acquainted with the Appleton familyof Boston--and found new love with Francis Appleton. But she refused his advances.
Longfellow returned to America in 1836 to begin teaching at Harvard. With his recent experiences, he developed a deeper sense of passion and wisdom through his writing. In the next decade, Longfellow would write his most extraordinary works including Hyperion (1839) and various poetry collections. He continued to lecture at Harvard as the head of Modern Languages, tolerating the work; however, he was not happy there. He quickly rose to fame, publishing Evangeline: A Tale of Acadie (1847), The Song of Hiawatha (1855), and Tales of a Wayside Inn (1863), making him one of the greatest authors of his time.
His growing popularity finally wooed Frances Appleton and in 1843, they were married. Together, they would have six children, although one died in infancy. They had a very happy family, which is reflected in his poetry. Their home was also the gathering place for his friends and prominent figures in literature at the time, including Charles Dickens, Ralph Waldo Emerson, and Nathaniel Hawthorne. His success allowed him to retire at the age of 47 and focus on his writing and his family.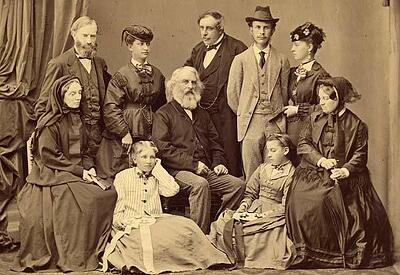 Although Longfellow continued to write, his output diminished in 1861 with the tragic passing of his wife. He began to focus much of his time on translating Dante's Inferno. In 1867, he became the first American to publish a translation of this classic masterpiece.
Longfellow passed away on March 24, 1882 from complications of peritonitis. He was buried in Mount Auburn Cemetery, next to both Mary Potter and Frances Appleton.